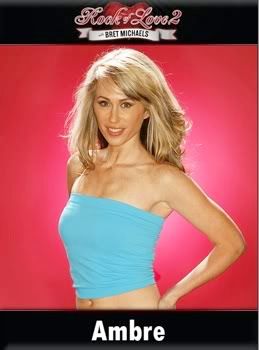 Big haps last night on Rock of Love 2 y'all.
Okay, not at all. The show was totally anti-climactic. I'd give you a play-by-play, but nothing happened. Busty girls showed up, said idiotic things that are so idiotic I don't even remember them (unlike the delicious idiocy of 'Make Me a Supermodel', which reminds me of Ronnie...sigh), and danced around reveling in their awesomeness. There. You're caught up.
You might remember I blogged about this last week: an old classmate of mine, Ambre, is currently one of the contestants on the new season of Rock of Love. Ambre's a smart cookie, and I said that I suspect she's trying to work this whole TV exposure thing to her advantage instead of just using it for...well, to expose herself like the rest of these chicks. According to sources I have recently consulted, my suspicions were correct, and I'm totally rooting for her and you should be too cuz she's pretty rad.
So last night, all the skanks contestants arrived at Bret Michaels's crib and commenced immediately to slut the place up. One chick, who's so nasty that I don't even feel like bothering to find a picture of her cuz she kind of makes me throw up in my mouth, took her top off in the first ten minutes. Many of the others went nearly just as far.
Meanwhile, our Ambre kept it classy, working a sexy outfit but KEEPING IT ON HER PERSON. Kudos to her, but it seemed to backfire: she was one of the 5 girls to be eliminated on the first episode.
UNTIL, that is, the last girl to be asked to stay decided she should go home...which meant one of the 5 girls being sent packin' would be salvaged...and lo and behold, it turned out to be our Ambre!
So here's to second chances! Go on Miss Ambre! Get yours!