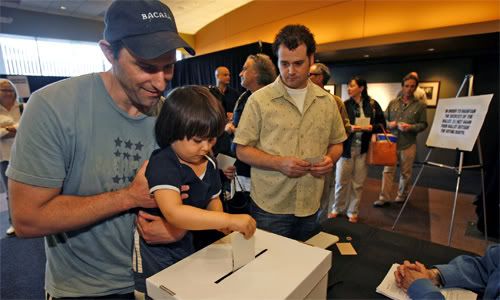 It's offish y'all! The Writer's Guild of America officially ended their strike as of last night at 7:00 PST!!! Wooooooo!!! The producers and network suits finally relented on their busted, cheap-ass tomfoolery and are actually gonna pay folks what they deserve! Hurrah!
Read about it here.
This means two very important things:
#1: THE OSCARS WILL AIR!! This is a national holiday for the dorks and homos and dorky homos and is very near and dear to them. Falling into all three categories, I would know.
#2: 30 ROCK and THE OFFICE WILL COME BACK ON!! This is very important, as one of them contains my boyfriend and one of them contains my idol. (A cookie for anyone who can accurately identify both persons).
Oh, and that whole thing about the writer's getting paid right and stuff. That's pretty rad as well.
In celebration, a clip from each of the two best shows on TV right now, which--please baby Jesus--will return soon and not get way-laid until Fall.
Yayyyyyyyy!!!