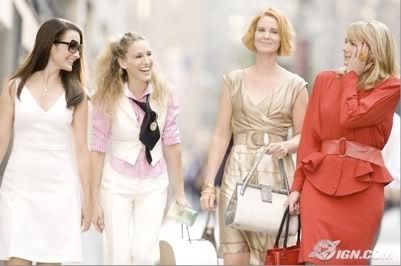 Don't worry: NO SPOILERS
One of the reasons 'Sex and the City' worked so well as a television show is that somehow, through some unidentifiable alchemy, it was unapologetically girly without ever slipping into cliché. The characters were smart, urbane, individual, articulate. The writing was crisp, fast, sincere. The jokes were clever, sharp, witty. Of course, the show had its eye-roller moments, but for the most part it was a delicious little bit of televisual subterfuge--a fluffy TV show confection with a gooey center made as much of brain as heart. 
If only the movie could have followed suit.
Don't get me wrong. 'Sex and the City: The Movie' is fun. It's entertaining. It's funny at times. But in its best moments, there's just something missing, something just slightly off-the-mark, just slightly...not there. And at its worst moments? It's all of the most egregious parts of a chick-flick rolled into one big Vivienne Westwood-clad ball. The rapid fire rat-a-tat dialogue? Well, that's dispensed with to make more time for shoes and dresses and jewels. The blushingly filthy quips? Eh, there's a couple, but they're mainly put aside for lots and lots and lots and lots and LOTS of earnest talk about the subject that was always treated with such good-natured send-up on the show: love. And we get it; we get what writer/director Michael Patrick King and Sarah Jessica Parker are going for: they're older, wiser and in a new chapter. Carrie Bradshaw is all growed up, a girl who "used to write about how to find love" is now a woman writing about "what to do once you've found it." 
But in a painful, sometimes awkward bit of cinema verité, blossoming from free-wheeling Manhattan singletons to poised, confident on-the-right-track 40-somethings apparently carries with it, if 'Sex' is to be believed, a transition we've likely all witnessed in our mothers: one from whip-smart firecracker to hokey, schmaltzy woman whose sense of humor tends more toward the 'King of Queens' end of the spectrum. (A bad 80's fashion montage? Really?) Top it off with more materialism than you can--really, seriously, no joke--possibly imagine, and you have the current incarnation of Carrie Bradshaw's Magnolia Bakery cupcakes. 
There are two ways of looking at this movie: one, as an homage to the beloved television show; two, as a film within its own right. In the first regard, it's a relative success--if you loved the show, you'll enjoy yourself well enough. 
But in the second regard, it fails. The writing is awful, the pacing is awkward, the timing of jokes is clumsy, the storyline is inconsequential. Michael Patrick King has spent so much time attempting to catch us up on goings-on since the last four years that he's given us a movie that feels like, to borrow a phrase from another review, a high school reunion. It's great to see them again, but instead of marveling at their lives as they are today, we're stuck longing for the way they were. It's a bit like watching an inept modern-day remake of a beloved, old-time classic.
'Sex and the City' succeeded as a television show because of one thing and one thing only: the deep, unshakable love these women had for each other, and in addition to and perhaps even because of that, how much they loved themselves. That was the heart of the show. Sure, the jokes were hilarious, the hijinks entertaining, endearing, moving, or any other number of adjectives. But the relationships were the thing. Plot was really there only as a conduit for reflecting the single gal, urban family ethos. And the fashion and glitz and Manhattan glamour made it all a lot more fun. But what hooked people from all walks of life--including unlikely followings among straight men (ask around your girlfriends and you'll find plenty with boyfriends who ended up loving the show too)--was the beautifully rendered bonds of friendship. It spoke to something universal that anyone on earth--whether a swingin' single gal in Manhattan or, in the case of a friend of mine, an elderly male chicken farmer in Kentucky (no joke)--can get behind.
'Sex and the City: The Movie' for the most part takes that for granted and focuses instead on attempts at filmic gloss. It's as if he's saying "You thought we were glam on HBO? Well hold onto your giant Chanel hat!" But it turns out to be a bunch of clutter. Film scoring--as in violins and cellos--whines under the scenes and makes them feel...well, ridiculous. Grand, sweeping long shots of Manhattan locations give the whole thing an overblown look that is no more remarkable than, say, 'The Wedding Planner' or 'How to Lose a Guy in Ten Days' or any other non-descript New York romantic comedy. There's very little of the close-in, tromping down the street in stilettos scenes underscored with honking horns and zooming taxis that made the television show so evocative.
Most importantly, King treats the girls with something that I can't put my finger on, but is lacking. It seems, more than anything, a testament to the fact that 'Sex', on TV, had a litany of writers who all collaborated, most of whom were women. Each episode was crafted of the points of view of a whole host of voices that outnumbered King. And it shows--the whole thing has the feel of a tribute show, like King is doing his damnedest to 'honor the work' of the original scribes. It gives the girls' interplay a stilted feel--Miranda comforts Carrie because...well, that's what girlfriends do. Samantha's excited for Charlotte's pregnancy because...well, that's what girlfriends do. It's as if their friendships have turned into a fifty year marriage. They love out of habit.
But never fear: where heart lacks, retail thrives. 'Sex' is so chock full of materialism that it's at times shocking. We are actually asked to be touched--TOUCHED!--when Carrie gives her assistant, Louise (played by Jennifer Hudson with charming, if unrealistic, aplomb) a Louis Vuitton handbag for Christmas. Violins swell, the camera fixes on the girls' faces, they well up. It's as if Carrie had, oh, I don't know, bought Louise that unaffordable plane ticket home to see her dying father one last time. Except, you know, IT'S A FUCKING PURSE. And when everything in Carrie's world goes horribly awry, and it seems as though it'll never be quite right again, along comes the film's final scene where a pair of sparkly cobalt Manolos bring everything back around to where it should be. Sniff. 
The fashion tricks on the television show were definitely fun, but they were really rarely more than ever-changing, always edgy wallpaper. In the film, the fashion at times feels more like the star of the show, with the four actresses doing a kickline in the background for extra panache. It becomes especially apparent when you notice that some of 'Sex's' most beloved recurring characters--Stanford Blatch, Anthony Marantino, Miranda's Ukrainian housekeeper Magda, Charlotte's husband Harry--are all shuffled in for blink-and-you-miss-them cameos. Couldn't they have given Blahnik and Von Furstenberg and Posen a tiny bit shorter shrift so that we could have a nice Miranda-Magda power play or a touching Carrie-Stanford snigger?
What saves the movie from being a total cock-up is, of course, the actresses. It's fun for us to revisit these women we love so, and they do the best they can in recreating the magic with the material they're given. Parker in particular has one scene--involving a limo, and Big, and a bouquet (it'll make sense when you see it)--that is some of the best acting she's ever done in her life; the kind of visceral performing that gives you goosebumps. Kristin Davis has one particularly genius comedic moment involving tainted water in Mexico. Kim Cattrall is exactly as sharp as you remember her. And, as always, Cynthia Nixon, even when given a grisly, overcooked leathery steak of a line, sinks her teeth into it anyway and chews the hell out of it.  
But overall, if you're not a fan of the show already? My God, I'd think you'd be ready for a bullet in the head by the time the credits roll. Anything to stop the racket. But for fans of the show, 'Sex and the City: The Movie' is like that aforementioned bad steak: it leaves you feeling full, but not particularly satisfied, ready to go home and binge on something more substantial--like old episodes on DVD.
As I left the theater, I couldn't help but wonder: when it comes to beloved television series, should we leave well enough alone?