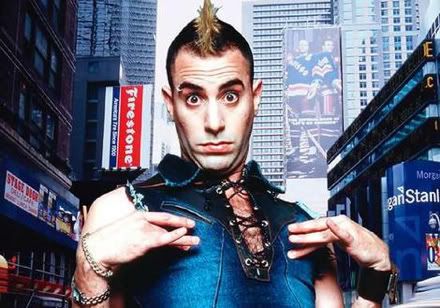 You may remember after the release (and fervor) of Borat: Cutlural Learnings of America for Make Benefit Glorious Nation of Kazakhstan, Sacha Baron Cohen announced that his next film would focus on his other (and my favorite) character, gay German fashion commentator Bruno.
The filming has begun, in the same style as Borat--interviews with unsuspecting folks and random unannounced stunts. In Kansas.
Here's an old clip from "Da Ali G Show" featuring Bruno (NSFW after the 4:00 mark, by the way):
He's hilarious. And this is a tame clip. Usually he's interviewing people in the fashion industry and making absolute and total fools of them.
Well, Sacha's been filming in Kansas lately, and causing a bit of trouble. During a stunt at the Wichita airport:
"The so-called German documentary film crew made a scene inside the main terminal...Airport employees say they seemed professional. That is, until the cameras came on and the clothes came off...Wichita Police, along with the Attorney General, are investigating the prank." (Wichita's KAKE TV)
Here's the video of the stunt that got them kicked out:
Awesome. That shi* wouldn't even raise an eyebrow at JFK. They'd just think he was a flight attendant for Virgin America or something. Well, either that, or they'd shoot to kill. Either or.
Anyway, Cohen's stunts also included going to a church's Easter play dressed in chains (bwah!) and--get this--interviewing Ben Affleck!
From /film:
"Ben Affleck alled comedian friend Sarah Silverman after completing a sit-down interview with...a 'very famous openly gay fashion journalist.' Ben called the interview 'the weirdest sit-down he has ever had with a reporter' explaining that the interviewer's (wholm [sic] he refered [sic] to as an 'idiot') first question was 'How Do You Like [offensive term for African-Americans]?' After a stunned silence, Silverman asked Affleck 'Was this guy's name Bruno?' Then and only then did Affleck actually realize that the whole thing was a gag."
I. CAN'T. WAIT. I have loved Bruno forever. I also may or may not (but definitely do) feel he's kind of hot. I wouldn't kick him out of bed for eating crackers, as my mother would say with absolutely no idea that that saying in fact means "I'd bang him/let him bang me like pots and pans" and not, for instance, "I'd let him sit in my bed and keep me company while I watch a late night re-run of 'Hope & Gloria' on Lifetime before bed, crackers or no."
Anyway, the fillum comes out in October. If you don't have a stick thrust so far up your ass and aren't so impressed with your own intellectual ascendancy that you could enjoy Borat I can almost guarantee this one will be even better.

Oh. The full name of the fillum is: Brüno: Delicious Journeys Through America for the Purpose of Making Heterosexual Males Visibly Uncomfortable

Amazing. And no, certain reader (who shall remain nameless to protect her anonymity, or, in Madonna parlance, anononymity), Sacha is not gay. He's married to Isla Fisher from Wedding Crashers. (Bi*ch [the reader, mind, not Isla Fisher] thinks everyone's gay, and regardless of this disclaimer will probably now assert until she [the reader, mind, not Isla Fisher] is six feet under that Sacha HAS to be gay. She'll probably continue to assert it even after that, from the great beyond.)
via Towleroad
Oh. Also, allow me to introduce you to some other fellows named Bruno that came up during my Google image search for "Bruno." Mysteriously, I sort of want to date all of them:
This particular Bruno is French, a professor of computer-something-or-other, and totally and completely my type. Which is to say, smart, nerdy and bespectacled. Oh, and French.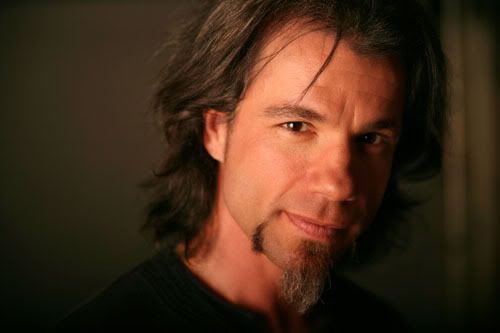 This Bruno is French Canadian, some sort of musician or composer or somesuch, and, excepting the wonky beard, totally and completely my type. Which is to say, brooding, shaggy-haired and probably a bit of an ass.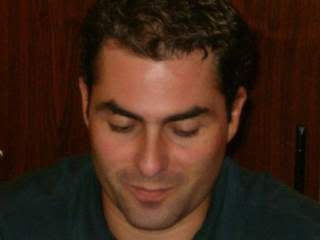 This Bruno is Portuguese (exotic!), also some sort of musician or composer or somesuch, and totally and completely my type. By which I mean probably really deep and sentimental, and the type who would say really nice heavily-accented things to me that I would pretend made me uncomfortable but would secretly make me swoon.
This Bruno is Brazilian (exotic!), a famous actor, apparently, allegedly, oftentimes up in the gym just workin' on his fitness, and, being Brazilian, is probably very good at doing sex. I'd let him.
And finally, we have this Bruno:
who's Dutch, a PhD student in one of my homelands, the Netherregionslands, whose interests include "the study of Stellar Populations and the Chemical Evolution of Galaxies," as well as, apparently, sushi, may or may not be possessed by Satan and seems like the type of guy who would listen to Rammstein and want to cut you while doing sex. He's not my type AT ALL, so he's all yours if you're looking. I'm sure he's available. People who scar easily probably should think twice.