Y'all, I'm becoming more concerned about my girl every day. The crazy continues apace.
Here she is at some Kablahblah charity thing she did with Gucci or somesuch or whatever who cares. Just look at the pictures.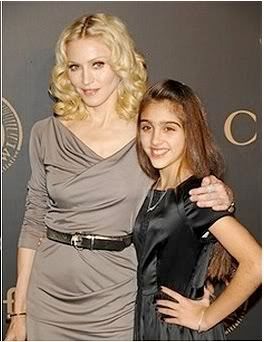 Gorgeous no?
Girl, go the fuc* aHEAD, right?!
Angelic almost, wouldn't you say?
Sidebar: I applaud Madge for allowing Mini-me Lourdes to remain a child. She is after all only 4 or 11 or whatever. But when do you suppose M will finally allow Lola to do away with her Latina unibrow? I'm hoping that Mrs. Ciccone-Penn-Ritchie will opt for 13, seeing offical teenager-dom as an appropriate time to instruct one's daughter on the finer points of feminine hair removal. The lighting in this photo is doing Lola many a favor, cuz that unibrow is actually positively Kahlo-esque and has a mustache to accompany it.

Back on task. Remember how Madge had a few small upgrades did over the holidays, as evidenced by her being photographed outside a plastic surgeon's office with two black eyes? And also by the fact that she is almost 50 and looks in her 30's and I don't give a flying fuc* WHAT she says there is no way she looks that good because she takes such good care of herself and this is NOT the first time she's had surgery, only the first time she's gotten CAUGHT?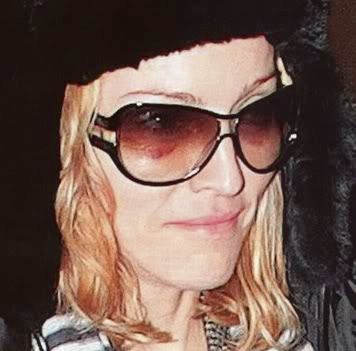 Well all I got to say is: Mayday, mayday!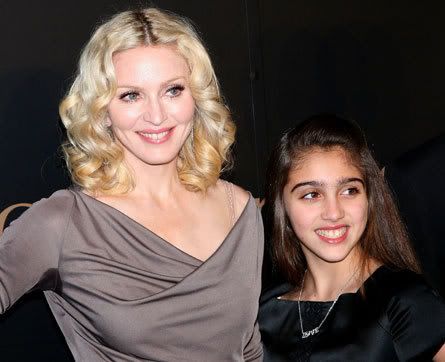 Wipe your face Madge, your facelift is showing!
I realize it's partly lighting. Obviously, multiple flashbulbs are going off simultaneously and the lighting is harsh and unflattering and in normal circumstances, we probably wouldn't notice. But WOW. I mean, that shi* is OBVIOUS up in here. For those of you who are alumni of my alma mater, be honest: is there or is there not something ever so slightly the-early-stages-of-Professor-Joyce-Ramsay going on here? Plus, she looks like she has two assistants standing behind her holding onto two strings that are stapled to the skin in front of her ears. They have a mule-team hooked up to that shi* and Rocco's back there fuc*ing bull-whipping them. Yah mules, yah!
And is it me, or does she also vaguely have that standard plastic surgery "Who are you people and what is this beautiful place?" glassy-eyed dreamy expression? Ya know, like Phoebe Price? But she also looks like she's thinking "Ow. Shi*. Ow, the muleteam is pulling too hard this time. Keep smiling so the photogs don't notice anyth--Fuc*! Shi*! Bollocks. Blimey. Ow. Bloody hell!" I imagine the moment this picture was done being snapped, she whirled around, backhanded one of her assistants for letting Rocco have so much fun with the mule tazer, then turned back around to answer questions from reporters like nothing had even happened.
Anyway, I'm terrified. I need her not to devolve like this. Why Madonna why?
None of that is as terrifying as this, though: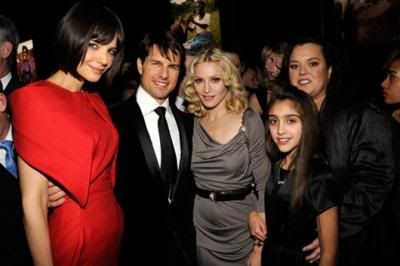 First of all, all of these people are in one place at one time, but more importantly gaaaAHHHHaahhhh!!!! KATIEBOT IS GONNA FUC*ING EAT EVERYONE!!!!
Seriously, look at all 14 feet of her. Look at her face. You can see it in her eyes. Bloodlust. She knows we know too. Look at her. She knows we know she's fixin' to eat some folks and she LOVES IT.
Rosie knows too. Look at her face. She's getting a feeling of impending doom.
Who do you think Katiebot'll eat first? Odds are on either Rosie cuz she's meatiest, or Lourdes because she's probably the most tender. Children are tender, this is a well-known fact. This is the main selling-point of veal.
She'll try to eat Madonna last, but bitch'll get filled with mommy-rage superstrength and beat her back, then dump champagne all over her circuits and short her out, saving the day, and Kablahblah.
Katie Holmes is YETI. I had no idea.