Very quickly, before we get started here: I have read Madonna's brother's tell-all, Life with My Sister Madonna, in its entirety by making multiple visits to local Barnes & Noble outlets (please—as if I'm going to pay $27 for this kind of shit), and I can confirm that it is, in fact, the most poorly and dully written book I've ever read and that Madonna is, in fact, batshit fucking crazy.
Anyway. So I'm becoming increasingly more concerned about Madonna and Wonky Wonky Facelift.
Sorry, I need a moment to prepare before I continue.
Okay. Here goes.
I am becoming increasingly afeard that Madonna has jumped the shark.
There I said it.
I know! I know, I know, I know. But come on.
Remember the days—as recently as just two years ago—when a Madonna tour ushered in a whole new ethos, a whole new version of Madonna that spawned an instant set of trends that set the world on fire? Let us not forget that last fall's equestrian craze arrived on runways shortly after this:
And the whole bootleg jeans and cowboy shirt look from 2000 hardly needs mentioning since people are STILL DOING IT.

Well, I am confused as to what new version of herself Madonna is endeavoring to create this time around. Because the only new ethos I can gather from this latest incarnation is one of a totally fug, ridiculous asshole.

I mean: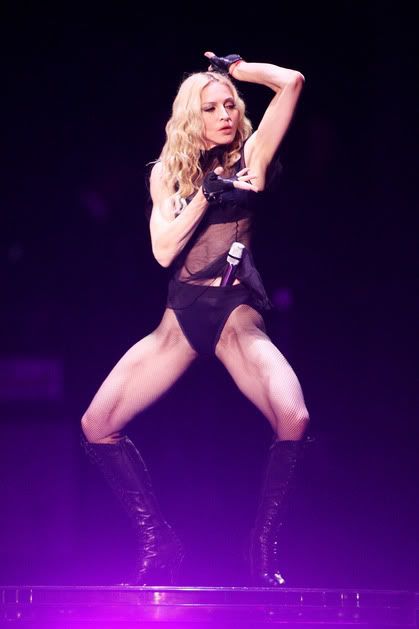 Eew.

Also:
Absolutely not.
Plus:
I'm sorry. What?
And finally:
Now, just...fuck you. There's a difference between cheeky and just plain ol' fucking ridiculous. This is the latter. More importantly, it's the ugliest and stupidest thing I've ever seen you in.
(Also, is that a Barbie in the bottom right corner?)
But I know that a Madonna concert-goer does not live by costumes alone. The play's the thing, as they say. But I am also deeply troubled by the concert clips I've seen on YouTube, which make me concerned that her current tour might actually be a bit shit in more ways than just the sartorial.

So imagine my terror when I heard that Rihanna recently covered "Vogue" at the Fashion Rules awards or whatever the hell it's called, which I had kind of forgotten even existed because nobody actually watches it anymore and never actually did in the first place. "Oh dear!" I thought. "What if it's…(gulp)…better?"

I needn't have worried. Here's the clip:
I mean, sure, yeah, whatever, fine, okay. But, sorry, zzzzzzzzzzz...
(Though, between you and me: girl looks better than the original. I know, I know. But I'm sorry. She does. Please review pictures above.) Good for her and all, but Rihanna's "Vogue" doesn't hold a candle to even Madonna's trying-too-hard, overkill "Vogue" and "4 Minutes" mash-up currently being performed in a sports arena near you, which makes me giggle with delight because it contains—wait for it—hip-hop vogueing. I most certainly will not shut up! It's true! Observe:
Stupid? Yes. Desperate? Definitely. Still deeply awesome anyway in spite of itself? Correct.
And after all, it could be a lot worse.