That's the tagline of this new musical and it couldn't be more apt. I saw it last night, and I know what you're thinking. And I know you're judging me. And you should stop. Because that's not nice. But more importantly because the show is, in a word, brilliant. And I'm not kidding.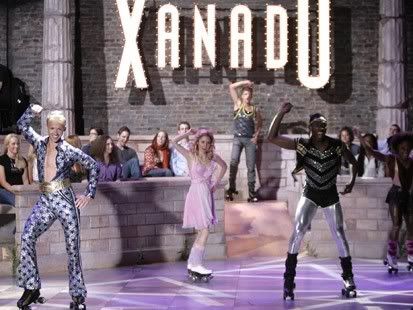 Of course we all know about the movie 'Xanadu.' It's pretty much infamous for being terrible and is often credited as the last nail in the coffin of the movie musical until its resurrection with...what? 'Evita'? 'Moulin Rouge'? Whatever. Point being, the genre died for quite some time, and 'Xanadu' was pretty much the death rattle. Its plot is patently ridiculous--no, stupid is the word really: Olivia Newton-John is a 'muse'...from ancient Greece...sent to present-day (as in 1980) Venice, CA...to inspire a frustrated artist...who makes chalk murals on sidewalks...and has a dream of opening a roller disco/art space? Or something? Who knows. The point is, it's preposterous. Those with an opinion of the movie seem to be divided into two camps: those who think it's so bad it's good; and those who think it's so bad it's just...well, bad.
The good news is this: the Broadway incarnation will play to both sentiments. From the moment the lights come up, the mockery is spread thick. There is no attempt to honor the film. This is parody through and through: parody of the film, parody of the very idea to make it into a musical, parody of musicals, parody of Olivia Newton-John, parody of the 80's. Even the audience is made fun of: "My God," deadpans the brilliant Jackie Hoffman (an NY theatre veteran and a supporting cast member of one of my favorite movies, 'Kissing Jessica Stein'), breaking character during a scene of particular ludicrosity, "this is like children's theatre for 40-year-old gay people." This is a show that knows how awful its source material is and, most importantly, knows how awful it itself is. It almost feels like a brilliant Tina Fey-penned SNL sketch stretched to full-length.
The secret of the show's success is Kerry Butler in the Olivia Newton-John role, who defies all expectations. When you first see her, you expect precisely what Broadway is so fond of inflicting on us nowadays: a cute, pretty blond/bland ingenue with a great voice but who is probably totally miscast. The workshops of 'Xanadu' were with Jane Krakowski, of course of '30 Rock' fame, who's a brilliant comedian with just the right amounts of bombshell, dumb blond and sardonic bitch to do justice to such high satire as this. It's hard to imagine finding a more perfect fit.
But the masterminds behind 'Xanadu' did just that. If the show is a Tina Fey sketch, Ms. Butler is its Amy Poehler, a brilliant satirist that injects the role with a dead-on tongue-and-cheek interpretation that flat out mocks Olivia Newton-John but stops short of being mean-spirited. She speaks in a supremely exaggerated Australian accent--words like 'no' and 'go' are hilariously rendered 'noiiiay' and 'goiiiay'--that deliciously sends up how ridiculous Olivia Newton-John's film career was: her characters were always Australian because...it was cheaper than hiring a dialect coach? Butler's singing gets laughs too, so dead-on that at times it seems you're listening to Newton-John herself--perhaps a bit drunk, but Newton-John nonetheless--being piped in through the speakers. And her roller skating is so adept that she is able to use it to the fullest extent of its stupidity, transforming it from a simple has-to-be-there allusion to the movie to a joke in and of itself. Butler makes the show, and it's hard to imagine it without her.
'Xanadu' sort of follows in the footsteps of 'Mamma Mia,' but takes it one step further. Whereas the conceit of 'Mamma Mia' is a sort of 'parody is the sincerest form of flattery' ethos, 'Xanadu' doesn't have an ounce of tribute to share. It's just an hour and 45 minutes of pure mockery. It's right up any wiseass's alley.
Plus, it has this guy. In daisy dukes. For two hours.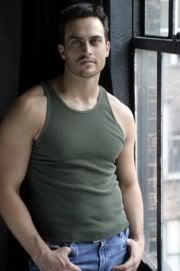 Enough said.