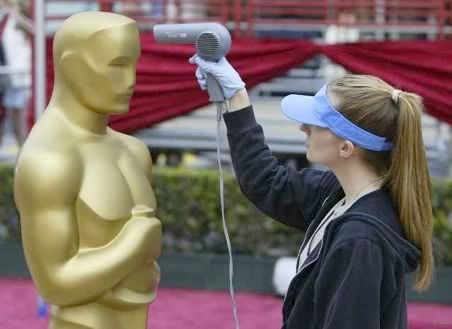 Okay, pets. It's time for some fortune-telling.
Office having an Oscar pool? Just want to impress your friends with your uncanny ability to predict the winners on Sunday? Don't give a flying fuc* but like to look at pretty pictures of the famous? Well you've come to the right place.
I make no guarantees of course--one can't when dealing with the abject stupidity flying around Hollywood--but as you all know, I do know everything. About everything. That of course includes the likelihood of Oscar wins. Here's why.
First of all, Oscar Sunday is like a national holiday for me. I take it very seriously. There's Christmas, then Thanksgiving, then Oscar Sunday. Obviously, Christmas is first. There are twinkling lights and things that taste of peppermint. But Thanksgiving only beats out Oscar Sunday for second place because I love stuffing.
Hence, I've seen almost all the movies, because I like to be able to roll my eyes at the insufferable stupidity of people who think, say, Juno will win Best Picture (Not to disparage Juno. I lurrrved it) because they are dumb and haven't seen any of the movies and have no clue what is going on and can't believe Music and Lyrics wasn't even nominated for Best Romantic Comedy.
Third, as most of you know, I spent some time in Hollywood starring in really unfortunate horror movies and working as a bitch set P.A. on various (by which I mean 3) television productions, so I have a pretty good handle on how those idiots in the Academy think. I'm an insider, and kind of a big deal, and I know things. Trust.
And, finally, fourth: I read lots of stuff. There are lots of editors out there paid princely sums to actually look at the history of each category, crunch numbers and determine the year-to-year trends. I can't be bothered with that sort of idiocy, but God knows I LIVE for forking over half my income in order to read all that crap. I'm informed, bitches. So listen up.
Now then. As anyone who's not retarded (such as the idiot readers voting for the Oscar outcomes at moviefone.com, who think 'Juno' is gonna sweep everything and that Johnny Depp is gonna win Best Actor--who the hell are these people?) knows, winning Oscar bets isn't about who SHOULD win. It's about who WILL win. And there's a difference, God knows ('Crash'? Best Picture? Fool, please. What a sanctimonious piece of Liberal guilt crap).
So, herewith, my prognostications for the 'will wins,' followed by the 'should wins.'
Ahem.
And the winners will most likely be...
Let's start with everyone's favorite category, the one with pretty men inside.
Best Actor:
There's no need to even discuss this.
Will win:
Should win:
There's just no two ways about it. Daniel Day-Lewis is the man to beat and there simply is no way that anyone else should or can win. No way, no how, just plain old not gonna happen. His performance in There Will Be Blood is a typical, garden variety DDL performance--which is to say transcendantly riveting. Plus, he drinks your milkshake (such an unlikely catchphrase...I don't really get the whole thing...but whatever). If he loses, be on the lookout for other signs of the Apocalypse, and try to look busy, as Jesus is surely on His way.
The other candidates, who don't even need discussion because--again--there ain't no way no how they goan pull this off, are: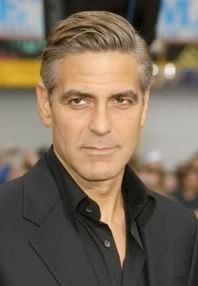 Sweet Jesus. Whew. I mean...
Oh. Also, these three:
(Aren't they pretty? Well, apart from Tommy. He's a bit haggard. But he's old and it gives him gravitas, so it's sort of default-hot)
They are, in case you live in a cavern, Georgie Peorgie Clooney for Michael Clayton (can't not love him, but this ain't his year), Johnny Depp for Sweeney Todd (meh, I'd say I'm over this movie, but I was never under it in the first place. Meh, meh, meh, a thousand times MEH.), Tommy Lee Jones for In the Valley of Elah (what now? One of the year's biggest flops? Oh.) and Viggo Mortensen for Eastern Promises, who gets an honorable mention for his fan-fuc*ing-tastic performance. Plus, he's full-frontal nakey in it. Fighting a dude in a bathhouse. Nakey. And it ain't half bad. Hell, it ain't even 25% bad. THE SCENE, people. God. Grow up. (No, but for real, the other stuff ain't bad either).
On to the pretty ladies, who will all no doubt look amazing Sunday night except one. One of them I am sure will look ridiculous. It's just simple statistics.
Best Actress:
Will win: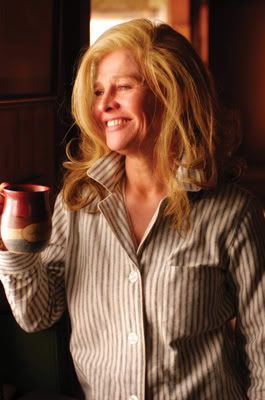 Should win:
Don't get me wrong: Julie Christie is brilliant in Away From Her and the film would be a bit of a wash without her incredibly affecting and vulnerable performance. Plus, she's a legend.
But goddam*it, Marion Cotillard in La Vie en Rose blew the roof off all four of the other actresses in this category, including Christie. And I regard Laura Linney as one of my top 5 favorite living actresses, okay? None of them came close to the all-consuming work of Marion Cotillard. She simply was Edith Piaf, plain and simple. It's rare that someone as critical and cynical as me can forget they're watching an actress. But I did. I know Marion was in there somewhere, but I'll be damned if I ever actually saw her.
There are whisperings that she just might pull this off after her upset victory at the BAFTAs (Britain's Oscars) last weekend, besting two of Britain's national treasures--the aforementioned Julie Christie and Stick Insect Who Can't Make Her Lips Touch Keira Knightley--on their home turf. It won't happen though. Number one, her film is in French--not a stumbling block in Britain, but certainly a turn-off Stateside. God forbid anyone should go see a movie with subtitles, particularly some of the idiots that make up the Academy. Number two, Christie is a living legend, and deservedly so. She's the sentimental favorite, and that will win her the little gold man on Sunday. And good for her I guess. Whatever.
I mean, come on. Look how pretty Marion is! And she's French! It's like Audrey Tautou all over again except prettier! Whatever.

There are also rumblings in the press that wee Ellen Page might pull off an upset for her performance in Juno--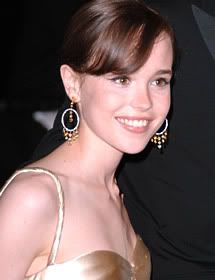 --Entertainment Weekly puts her chances ahead of Marion Cotillard's, even--but I don't see it as an option. Older voters are going to find her to be an irreverent whippersnapper (which she is, which is why the movie was so f'ing great), and the girl's only 20. Her nomination--well-deserved--is her award.
Also-rans:

Laura Linney (God I love her. Please do yourself a favor and rent You Can Count on Me. She's so good) is a long shot...her nomination for The Savages was a total surprise and carries no buzz. The film's production company didn't even campaign for her. Love her. But she's toast.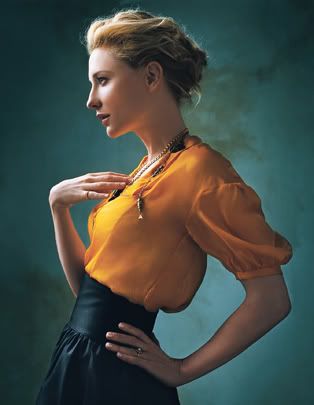 Cate Blanchett (how fuc*ing incredible is this photograph, huh?) is viewed by some as a possible dark horse, but personally I don't think she has a prayer. If she's going to win anything this year, it'll be Best Supporting Actress for I'm Not There, not Best Actress for Elizabeth: The Golden Age, one of (maybe the?) worst-received films of all the nominations this year. I've not seen it, because I can't be bothered, but I've been told by people both smart and stupid that it sucks. Good enough for me. Love her though. Lots.
And now onto the less-pretty-more-interesting gennelmenz.
Best Supporting Actor
This is almost as non-negotiable as DDL for Best Actor.
Will win: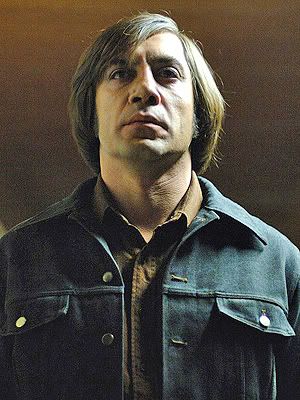 Javier Bardem (so very, very hot when not in costume. In fact, let's have a picture of him in real life, just because it'll brighten my stultifying work day and, unless you're a straight man or an idiot, yours: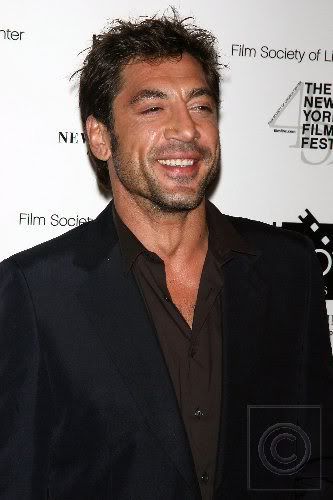 Sweet jumpin' Jesu Christo. Oof. I mean...)
for No Country for Old Men.
Should win:
I'm really torn here, but I'm gonna go with my gut.
Mr. Julia Sugarbaker Mr. Dixie Carter Hal Holbrook, for Into the Wild. Until I saw No Country...there wasn't a doubt in my mind that Holbrook had the Supporting Actor race locked. I'm prepared to say, in all sincerity, that his performance in Into the Wild might just be the single most heart-wrenching piece of acting work I've ever seen. Peoples' opinions of the movie overall are mixed, but I can assure you: some of you will love Into the Wild, and some of you will hate it, but if you can watch Hal Holbrook's small chunk of the movie and not be moved, you are dead inside. Period. He alone is worth the viewing.
But man is Javier ever good in No Country...Woo! That's a crazy mutha-fuc*a up there, ya know (in the first picture, not the boner-inducing second one)?! He'll win, and frankly is every bit as deserving as Holbrook. Sentimentality tips the scales for me in Hal's favor, but otherwise...Wow.
Also-rans:
Casey Affleck for The Assassination of Jesse James by the Coward Robert Ford (one of the few movies I haven't seen yet...it's sitting on my coffee table as we speak, and, sidebar: I don't get this current foaming-at-the-mouth celebration of Casey Affleck. I mean, he's good and all--better than his brother, that's for sure--but...), Philip Seymour Hoffman for Charlie Wilson's War (yawn. Haven't seen this either. Meh.), and Tom Wilkinson for Michael Clayton (a searing performance...but no Bardem or Holbrook).
On to the still-lovely-but-more-revered-for-their-talent group.
Best Supporting Actress
Ahh, the perennial wild card. This category is always the hardest to call, every year without fail. This year is one of the tightest races ever. This is a tough one...don't hate me if I'm wrong. Because frankly, this is a clusterfuc*.
Ahem.
Will win:
.........
.........
.........
*gulp*
.........
*deep breath*
.........
(incidentally, this is the face I will be making as I wait for Alan Arkin to read the name on the envelope and hope that I didn't choose poorly and lose my office pool)
Tilda Swinton for Michael Clayton, who really did give an incredible performance as a self-consciously nefarious corporate attorney trying to pull one over on Georgie Peorgie. Tilda is an incredible actress--one of those few, like Daniel Day-Lewis, who just might be incapable of turning in anything short of FLAWLESS acting work--and a win for her would be well-deserved. She's almost unanimously named as the front-runner.
As for should wins...I haven't seen two of the nominated films, and I suspect one of them in particular might inspire deep feelings of indecisiveness in me. So I'll just talk numbers instead.
Miss Tilda does not have this locked. Here's where the clusterfuc* factor comes in.
First, there's this one:
Ms. Amy Ryan from Gone Baby Gone, who did a fantastic job in the film but with not much screen time. Personally, I think her nomination is her award...but then, if she won, I wouldn't necessarily be crying out that Tilda was robbed...I guess...The main thing is that she has a lot of buzz. People just seem to be incredibly dazzled by her performance. Plus, she's a relative unknown who kind of came out of nowhere, which makes her performance all the more memorable. Hence, clusterfuc*.

Then, there's this one: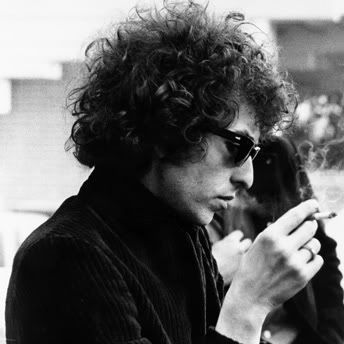 That's Cate Blanchett there, in case you couldn't tell. Which is, incidentally, why she just might pull this off. I mean...that's Cate bloody Blanchett there as Bob Dylan, in the biopic I'm Not There. Cate's incredible, an Academy darling, and a force to be reckoned with. However, she has already won this category for playing an actual person--Katharine Hepburn in The Aviator--so that might work against her. Still. There is major clusterfuc* blood on her hands. (Sorry, that's kind of a yucky metaphor).

And finally, there's this one:
Ruby Dee, from American Gangster. She's the sentimental and "career achievement" favorite and God knows Oscar loves that crap. She's only in the movie for five minutes, but those five minutes were enough to win her the SAG Award. However, I'll venture to say that SAG Awards are often handed out in lieu of Oscars--here, we actors'll give ya an award, cuz although you're wee and fabulous as well as a little bit crazy, we're not gonna vote for ya for the Oscar, mmm'kay? Now run along--so that might not add up to much. Still: clusterfuc*.

The one person NOT contributing to the clusterfuc* is: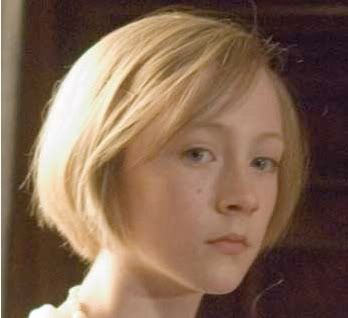 Atonement's Saoirse (pronounced SEER-sha) Ronan. She's absolutely incredible, by the way, and if this were a lesser year, she might have a chance to win this. She is an absolute prodigy--the hell with Dakota Fanning. Please. This girl of 12 holds her own against VANESSA SODDING REDGRAVE for God's sake. But she doesn't have a prayer. Not this year. Not against these other four. Atonement has collapsed under itself and there's just no way.
I'm still going with Tilda...but with trepidations...too many possible upsets here. Tread carefully. Swinton's the lesser of 4 possible-pool-losing evils.
Best Picture
Will win: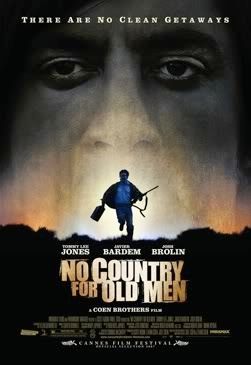 Should win: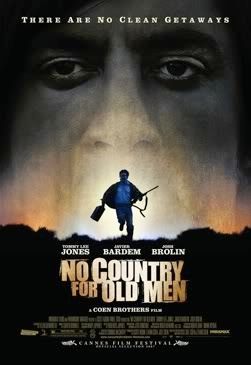 Hands down, the best film of the five.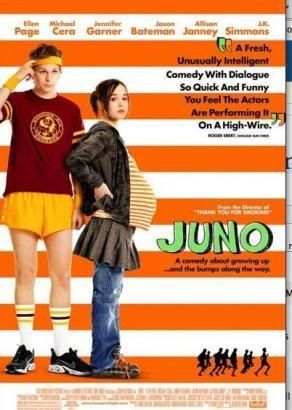 Juno has heart.
Atonement is gorgeous.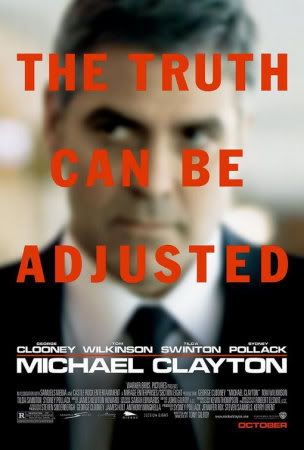 And Michael Clayton has some humdinger performances and a great script.
But No Country for Old Men has absolutely everything: incredible acting, inventive cinematography, spot-on writing and brilliant direction by the Coen brothers that wrings heart-pounding suspense out of the smallest of moments. Plus, there's Javier Bardem's performance. Never has subtlety been so terrifying. It's favored to win and I think it will...unless...
The one and only sure thing here is that Atonement's goose is cooked. I'm not sure what happened to this film, but it seems to have collapsed under its own panache. It's a great film--gorgeously shot, incredibly well-acted (I'm even willing to give Pouty Lips McGee Keira Knightley a pass on this one), and very well-written--but...well, no one seems to give a shi*, frankly. People seem to be over the traditional "Oscar movie" in the vein of, say, The English Patient--sweeping, epic, British--and hence Atonement just hasn't connected with people. Plus, its director, Joe Wright, wasn't nominated for Best Director (a bit of crime really...that 5-minute tracking shot on the beach at Dunkirk alone was worth a nod for him), and there have only been four instances in history where a Best Picture nominee without a Best Director nom has actually won.
So Atonement is the one we can count on to lose. The others are a bit murky though. Michael Clayton has won an awful lot of favor for its likeness to favorites from the 70's like Network and All the President's Men. And Juno's tug on the heartstrings certainly shouldn't be ignored. Vote-splitting might bring on a huge upset.
Plus, there's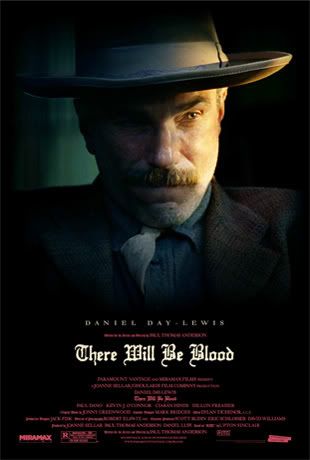 There Will Be Blood. This, more than the others I think, is where vote-splitting might come into play. Personally, I would be perfectly elated if There Will Be Blood were to take the prize. It's incredible.
All this being said, I still think No Country for Old Men will take the cake. Michael Clayton just doesn't have the style and scale of No Country, and Juno? Well, comedies don't win Oscars. Period. As for There Will Be Blood, P.T. Anderson is the Hillary Clinton of Hollywood; for every person who thinks he's an incomparable genius (like me) with a proven track record of masterpieces (Boogie Nights, Magnolia) there's another who thinks he's a self-aggrandizing hack whose films are nothing more than stylish mental masturbation. These people are idiots, but they'll keep this film from winning the top honor of the night.
Best Director
Another toughie. Tony Gilroy for Michael Clayton and Jason Reitman for Juno are this category's safe best NOT to win. Say it with me: their nominations are their awards.
PT Anderson for There Will Be Blood is a possibility, and shares the same fan base as the Coen brothers. And Julian Schnabel's work on The Diving Bell and the Butterfly (which I haven't seen) is unanimously considered to be genius.
But. The Diving Bell wasn't nominated for Best Picture an almost sure sign Schnabel's--yes, you guessed it--nomination is his reward. And the Coens have been in the biz a lot longer that PT Anderson. They're all deserving, but I think it'll swing the Coen's way.
And now, a quick, brief rundown of the remaining categories, based mainly on research. What the hell do I or any of you know about Sound Mixing? Please.
Best Original Screenplay
This is a virtual lock.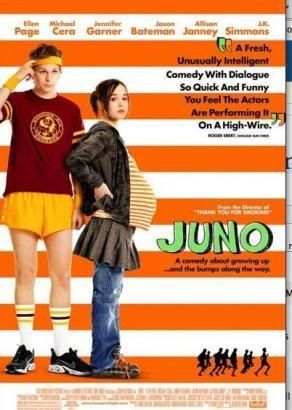 This award is Diablo Cody's. Hands down. Everyone wants Juno to win something, and this is the one is deserves more than any of the others.
Best Adapted Screenplay:
All the insiders say it'll be No Country for Old Men. I think Atonement may have a fighting chance for this one--everyone who's read the book says it's the most faithful adaptation they've ever seen--but again, the movie's has collapsed under its own weight. If the insiders say No Country, I believe 'em.
Art Direction
Survey says?
Sweeney Todd.
It's the most elaborate of the nominees, and that's what gets votes.
Costume Design
Beanpole McBeal's Keira Knightley's gorgeous green dress is but the tip of the iceberg in Atonement costume deliciousness, but:
Read the above, re: Art Direction. Rinse, lather, repeat.
Makeup
Kidding! Kidding. Relax.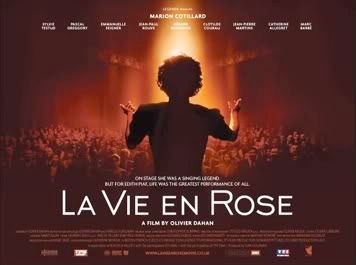 It takes a makeup expert to make a truly gorgeous 32-yr-old like Marion Cotillard into
a middle-aged pill-popping boozehound. And this is her on a GOOD day. By the end of the film, she looks positively dead on her feet, and not once do you notice the makeupiness of it all (like, say, Nicole Kidman's schnoz in The Hours).
Original Score
If Atonement doesn't take this one, it'll be a crime. Dario Marianelli's use of typewriter taps to create suspense is a bizarre stroke of utter genius.
Original Song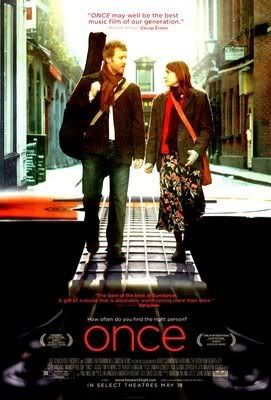 I'm told "Falling Slowly" is a lock.
Documentary Feature
Micheal Moore will not win this. Trust me. All the critics and insiders agree that this will take the prize. Plus, it's an election year, and the politically-minded Hollywood set will be gunning for this to win some attention. I haven't seen it, but I've heard it's brilliant, and I hope it wins.
Cinematography
This is a hotly contested race. Roger Deakins is a veteran cinematographer whose talent is deeply revered. But he's nominated for two films: No Country For Old Men, and The Assassination of Jesse James by the Coward Robert Ford. That spells vote-splitting.
I was giving my vote to No Country...but I think I'm changing my mind.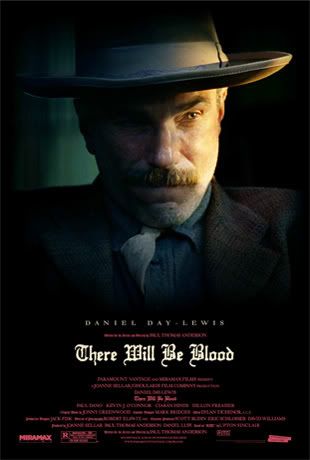 Don't quote me though.
Film Editing
There's the distinct possibility of a The Bourne Ultimatum upset--and don't roll your eyes, editing is what MAKES a movie like Bourne so much fun to watch, and it just won the Eddie, which is the Editors' yearly award. But most often, the Editing Oscar goes to the Best Picture winner. Bourne obviously is not a nominee in that category, so: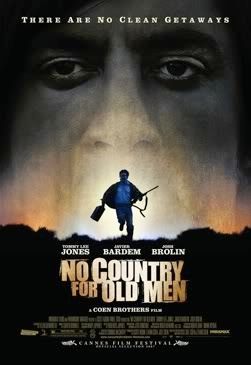 Safest bet.
Visual Effects
Another lock, according to the media.
Sound Mixing
Ditto.
Sound Editing
Aaaaand again.
Best Foreign Language Film
First, a word. The fact that films like Persepolis and The Diving Bell and the Butterfly are not eligible for this category means that the eligibility requirements need to be changed STAT. We live in an increasingly globalized world. The era of films produced solely and 100% foreignly is, and has been for some time, OVER. There's no reason two films like these should go home empty-handed. Get a clue, Academy.
Anyway, sources point to

It's about the Holocaust, and Hollywood's heavy Jewish contingent pretty much guarantees that this is a lock.
Best Animated Feature
Mark my words: Sunday's biggest crime will occur in this category.
There is absolutely NO WAY--NONE--to justify what will happen in this category. It is pure, simple stupidity. But it WILL happen.
It should be
because it is one of the most incredible films I've ever seen. No kidding. Gorgeously drawn, hilariously funny and clever, deeply affecting, inspiring and timely. It DESERVES this Oscar.
But it won't win. This will:
Whatever. Don't fuc*ing wave at me you fuc*ing thieves.
Best Documentary Short Film
Everyone who knows what they're talking about says Freeheld.
Best Live Action Short Film
A friend and reader who's seen the films says The Tonto Woman, but all critics and insiders are nearly unanimous: Tanghi Argentini.
Best Animated Short Film
The Beatles-themed I Met the Walrus seems to be the critical fave.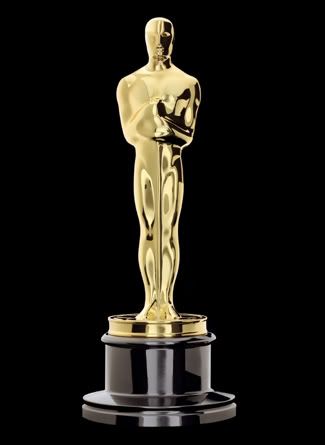 And there you have it fools. Let me know how you fared on your pools, if any. I hope I've led you straight...
Check in Monday for all sorts of kvetching about who won and what didn't, a full report of whether or not I won my office pool and, of course, bucketloads of bitching, pissing, AND moaning about what people wore.