As you all know, I've laid off the politics for several months. But today, someone went and did something so ridiculous and so disingenuous, that I am now duty-bound to officially break my political silence.
That someone is Barack Obama.
Imagine it. I'm sitting at my desk, being a good little editor, and I decide to take a quick break to rest my eyes. So, I log into my junk email account for a moment to see what's going on with the Men's Health Fitness Tips (that I never use), discounted Broadway theatre tickets, and who's blowing who on the porn site I cancelled years ago (because who pays for porn anymore?). And, of course, amidst all these disparate blurbs, is the latest goings-on over at my beloved HuffingtonPost.com
Imagine my surprise when I see this greeting me in my inbox:

And so I clicked, hoping I was either on glue, or hash, or opium, or had gone temporarily batshi* crazy, or was dreaming, or hallucinating, or had slipped into a parallel dimension, or was having an out of body experience. But then the email opened, and I saw this: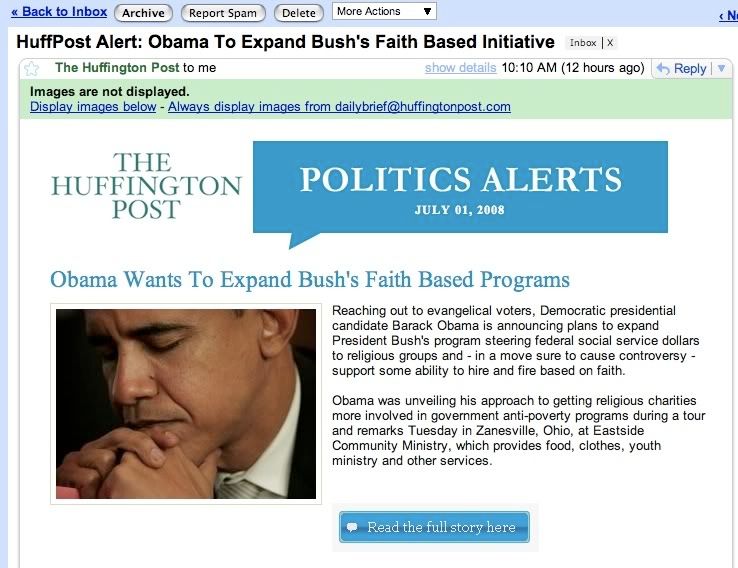 Excuse me?
In case you're not up on what President Dipfuc* has been up to the past eight years, so-called "faith-based initiatives" are Dipfuc*'s clever scheme to funnel social service money—federal social service money, as in your tax dollars—to religious organizations and charities. Which is, you know…more or less illegal. That whole pesky church/state separation thing. Not to mention discrimination. And the reulting lawsuits when, say, I get fired from my job at the YMCA for bringing my boyfriend to the office Christmas party. 
Yes, I'm hyperbolizing. And, to be fair, there are already regulations about that sort of discrimination in place in the current incarnation of the plan, and there would be in Obama's extension as well. But the point remains the same: Giving federal money to religious groups—regardless of how that money will be used—is opening a can of worms and swinging the doors wide open for discrimination—both real and implied. Regulations or no.
But all of this is irrelevant. Because the REAL issue here?
Everyone open up your calendars and note the date. Because I think we have all officially witnessed Obama's first certifiable, undeniable ploy to kiss Conservative ass and cravenly tongue the taint of swing voters—which, in case you've been sleeping for the past year, is the opposite of what Obama's about.
Or so we've been told.
Now don't get me wrong. I'm not so naïve as to think that Obama can continue to ride all the way to Pennsylvania Avenue on the feel-good wave he's been surfing for the past year. But there's buttering up the center, and then there's sycophantism at the expense of your base—no, fuc* the base; at the expense of VICTORY. 
I don't doubt that Obama is a "man of faith" like he claims to be, and that's fine. But his party? Well, most of us are pretty damn comfortable keeping religion as faaaaaaaaaaaaaaaaaaaaaar away from politics and government as possible, thanks very much. Why? Well there are many reasons, but the biggest one is because IT'S THE RIGHT THING TO DO.
So what in the ever-loving hell is he doing? Well it's perfectly simple: he's attempting to move to the center to court the swing voters. After all, it worked like magic for Bill Clinton, didn't it? And, really, for George W. and his "Conservative revolution." I mean, what is "compassionate Conservatism," that buzz-phrase from the 2000 election, if not centrist conservatism?
The problem with this is: IT DOESN'T WORK FOR DEMOCRATS.
Have we learned nothing from:
Al Gore in 2000? (Granted, he actually DID win. But in the end, not by enough of a margin to make a federal court case deciding a thrown election in favor of the bad guy seem too fuc*ing ludicrous to swallow.)
John Kerry in 2004? Who played so hard to the center and tried so hard to seduce the swingers that he ended up standing for nothing? And got his ass handed to him in November? Because the all-important centrists were duped into a lather about gay marriage, terrorism, and Kerry not being shot at enough in Vietnam?
And the best example of all…
Hillary Clinton? Whose constant pandering blew up—rather spectacularly—in her face, time and time again? Whose sycophantic eyelash-batting--not to mention crying--at the swing voters served only to make Obama seem all the more genuine?
 WHAT IN THE HELL IS HE DOING?
Arianna Huffington—who's even more rabidly pro-Obama than I am—put it best today in her column "Memo to Obama: Moving to the Middle is for Losers":
"Fixating on -- and pandering to -- this fickle crowd is all about messaging tailored to avoid offending rather than to inspire and galvanize. And isn't galvanizing the electorate to demand fundamental change the raison d'etre of the Obama campaign in the first place? … Watering down that brand is the political equivalent of New Coke. Call it Obama Zero." [Emphasis mine]
I couldn't agree more. It was the fact that Obama stood for something that got him where he is today. Let's just hope that the centrists and undecideds are sufficiently stupid to just, oh you know, NOT NOTICE that he has made a 180.
I've been saying since the jump that I supported Obama for two reasons: first—because Hillary was too polarizing to win; but more importantly, secondly—because I had already seen what I considered to be Hillary's true colors. I knew she was a fraud, all talk, before she ever announced she was running. One cursory look at her war record bore that out. Then her campaign got rolling and she proved it herself, time and time again.
But Obama? Well, he said he was a certain way, and I had no evidence to the contrary. He might, just maybe, turn out to be who he said he was. It was a gamble, but it was a gamble worth taking. Sure, he'd probably end up being just another charlatan like the rest of them. But worst case scenario? He turns out to be a charlatan, he wins, and we end up with a Democratic charlatan in the White House instead of a Bush-legacy Republican charlatan. Good enough.
And it still is--he's still a hell of a lot better than McCain. And sadly, in America, it seems to become more and more hubristic, naive, and pie-in-the-sky to hope for anything better than "good enough." 
But for a moment, it seemed like maybe this time would be different. Maybe we'd get better than "good enough." Maybe we'd get someone that we could really get behind, someone we could actually believe in. Maybe we'd have not just the lesser of two evils, but someone who wasn't all that particularly evil at all. I was really hoping that things would, for once, not be so cynical.
And coming from a cynic like me? That's saying a lot.
More on Obama's decision here