Why? This: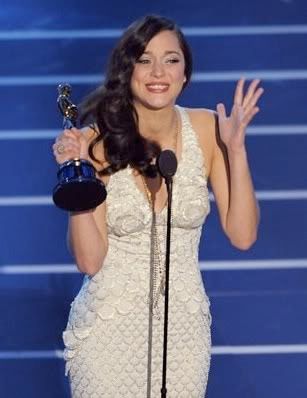 I swear to God, Norbit could have swept and this upset would STILL have made it the most thrilling night of my life. Okay, I'm exaggerating a touch. Still. What a complete and utterly thrilling surprise! This could not have made me happier. An ear-splitting group-shriek erupted at my Oscar party last night when they called out Marion's name, and my roommate teared up. No joke. This is one of those cases of someone being so much more deserving of the award than the rest of her category, but most likely not having a chance. But she pulled off the upset. SO. FUC*ING. EXCITING. The excitement on the part of the audience was palpable as well. Here's a clip of the announcement. Watch 37-months-pregnant Cate Blanchett practically jump out of her chair when they call Marion's name!
Is that not the sweetest thing you've ever seen?! So humbled, so elated, so honored and so overwhelmed. I AM IN LOVE WITH HER!!!
And how cute and French was she in the press room?! Such eloquently broken English! Favorite quote of the night: "I am totally filled with joy and sparkles and fireworks and everything which goes bom-bom-bom!" What? I don't even know! But go on with your broken English self! I am in love with her. Here she is again, after being asked in the press room to sing her favorite Edith Piaf song.

SHE IS SO ADORABLE I CAN'T EVEN STAND IT. I mean...
The other categories were just as satisfying.
Best Actor: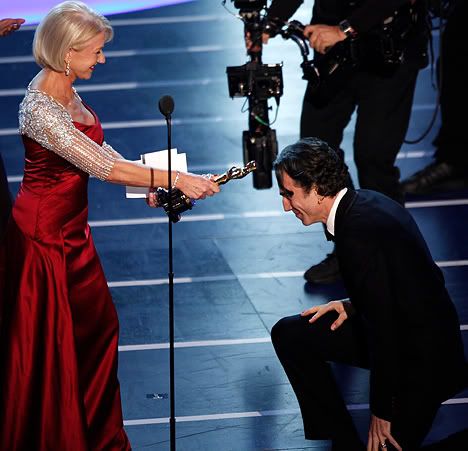 Daniel Day-Lewis, whom Dame Helen Mirren "knighted," using the Oscar as the ceremonial sword. It was a fun moment.
Best Supporting Actres:
(Yeah, yeah, yeah, we'll get to the dress in a minute). How much fun she was on the stage?:
Love the joke about Oscar and her agent sharing a set of buttocks, and love even more the razzing of Clooney for his benippled Batman costume years ago. She's a blast and a genius and I adore her.
Best Supporting Actor: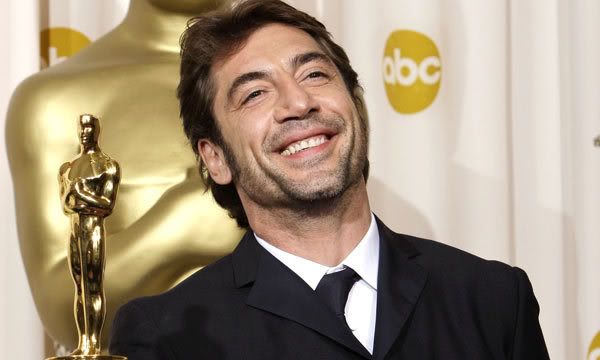 Javier Bardem, who continues to be the sexiest thing on two legs. I can't even handle him. Swoon. Very sweet of him to dedicate the award to his mother...who is AMAZING. Check her out:
I mean...wow...Senora Bardem...is just...wow...
Best Picture went to No Country for Old Men and Best Director went to Joel and Ethan Coen, as expected. Totally deserved as well.
Best Original Screenplay went to Diablo Cody for Juno, and she's kinda awesome. I love her a lot for wearing what she did (which we'll discuss in a moment.
Best Adapted Screenplay went to No Country for Old Men.
I did have one complaint. As expected, the Best Animated Feature category was utter bullshi*. Certainly no surprise, but Persepolis was robbed. Absolutely robbed. Go see it and you'll understand. Persepolis losing to Ratatouille is a complete eye-roller. But not a surprise.

But really, that was all that went wrong as far as I'm concerned. I would have loved to see Hal Holbrook win Best Supporting Actor, but I knew it wouldn't happen and Javier deserved it as well, so no real loss. It was also exciting to see how many awards The Bourne Ultimatum won! I'm a huge Bourne fan, so I was kind of excited by this. And I was excited to see Academy voters award things that were deserving of praise regardless of their critical reception or box office numbers. For instance, Elizabeth: the Golden Age winning for Best Costume Design and The Golden Compass winning for Best Visual Effects. Both films were ravaged by critics and made NONE money, but were both deserving of awards for their categories. Usually box office failure will swing Academy votes to a more respected film, but not last night. I think that's a good thing. Money doesn't equal quality, so it shouldn't equal awards either.
Go here for a full list of winners.
Also...drum roll please...I WON MY OFFICE POOL! Okay, I tied. Still. $37.50 richer, bitc*es!!! All in all, one of the most satisfying Oscars ever!

Now the red carpet on the other hand…