Ohhhhhh you guys!
I have been searching high and low for this video for MONTHS. In fact, this is the video that INSPIRED Local Commercial Corner! And at LAST, some clever bird has put it on the interwebs!!
This here is the current advertisement for Brooklyn's most ELEGANT, most SUMPTUOUS, most luxUUUURIOUS banquet hall of all: The Grand Prospect Hall. Oh it is a TREAT, ladies and gentlemen and others.
It's actually quite the place, truth be told. It's been around for like a hundred years and it's in all kinds of movies, music videos, and the like. In fact, that Vera Wang AmEx commercial? Filmed at the Grand Prospect Hall. 
So you'd think--wouldn't you?--you'd THINK they'd have a beautiful, gorgeous commercial that really shows The Grand Propsect Hall off as a real showpiece, wouldn't you?
You would. And technically--TECHNICALLY--this one does. Just, you know, not in the way that the good people at The Grand Prospect Hall intend...which is, of course, to our benefit, as we are able to cackle derisively for years to come.
Take a look:
Oh! But there is so much to talk about!!!!
Now of course, it goes without saying that the ABSOLUTE BEST PART OF THE WHOLE COMMERCIAL is NOT the old couple at the end bellowing at us in Slavic/Mediterranean accents. 
No no! That is number two. NUMBER ONE, is OF COURSE, the woman twirling in slow motion in her wedding dress--and by slow motion, I mean that the director of said commercial said "Just twirl around as slowly as you can--it'll look like slow motion" and then scratched his nuts and said "Yeah, okay. Go." Because, you know, there wasn't a budget for "special effects" and he couldn't be bothered to use proper terminology like "Action."
But, as previously mentioned, that is a close second to the Mediterraneo-Slavic (a new nationality I just invented! This minute!) couple bellowing at us at the end. 
Other salient points of interest: the decor; the ballroom dancing; the decor; the goldleaf and gilding; and the decor.
It. is. SOMETHING.
Well, it gets better bunnies. It just so happens that a co-worker of mine--we'll call her...Linda Evans, to protect her, as always, in the words of Madonna, anononymity--is getting married to a nice British chap in the spring, and is scoping out locations for her reception. Ironically (but not at all), The Grand Prospect Hall's commercial had the exact OPPOSITE effect on Linda Evans--it made her NOT even begin to think about possibly ruminating on the concept of maybe deliberating about perhaps considering The Grand Prospect Hall as a location.
I mean, after THAT commercial, would YOU?
But, it's right by her house, and she and the Brit walk past it all the time, and so they thought, "Eh, what the hell?" Or, at least, that's what Linda Evans thought. The Brit probably thought something more like "Oi! Let's give it a think, innit?" 
So Linda Evans sent an email to set up an appointment to have a look. And God smiled and opened the heavens, and The Grand Prospect Hall sent her the following informational brochure.
First of all, it opens with the following photograph: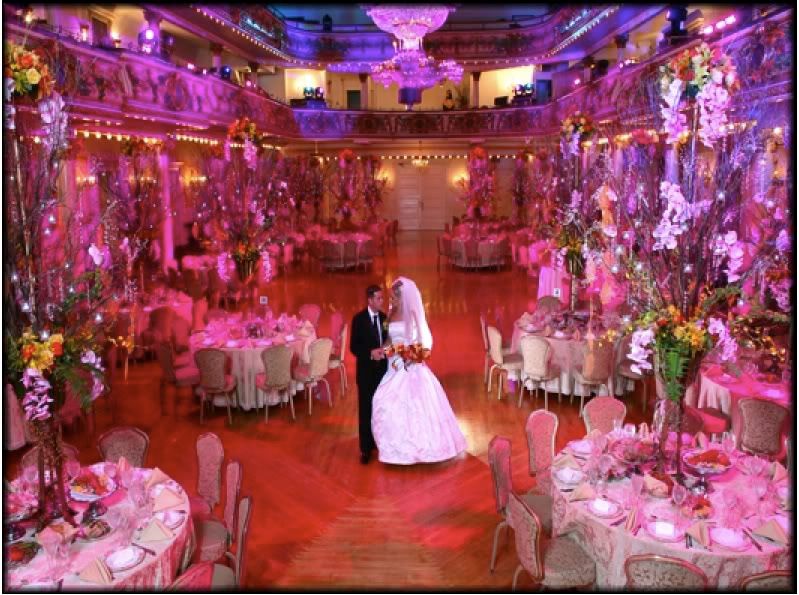 Oh MY! That! Is! ELEGANT!
Can't you just hear the conversation with the bride that preceded this decor? "No! Lemme ax you sumptin', hah? FARST of awl, did I evah say I wawnted pink and lavendah?! No! I said I wanted MAGENTAR and PARPLE! Nawt pink and lavendah! MAGENTAR and PARPLE! My GAWD, whattaya tawk?! Don't you people listen?! Change it! Change it awl!"
Then, there's the cakes that The Grand Prospect Hall can provide you: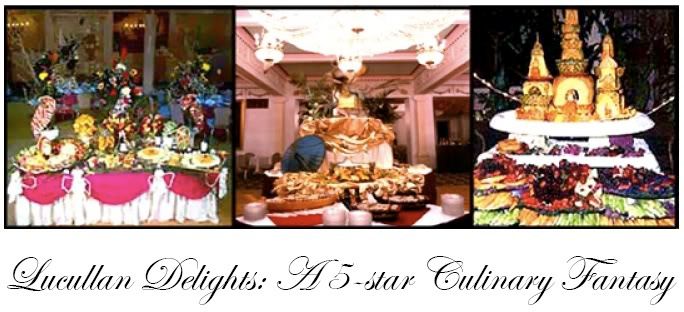 I don't even know what these ARE. The one on the left appears to be a collection of cakes shaped like turkeys. 
The one in the middle appears to have black swans on top, and there is definitely a black umbrella in the foreground.
The one on the right looks like a scale model of a fucking MEDIEVAL TOWN IN BELGIUM.
I don't even know.
Also:

Yugoslavia no longer exists, and hasn't for some time now.
Also:
Clients include:
Danny Aielo, who recently decided to drop the second L from his surname, because why is it really needed anyway?
Oscar D'Leon, whom Linda Evans and I assumed to be Oscar De la Renta until our clever intern...Victoria Principal...googled Oscar D'Leon and found that he's an actual person who makes salsa music in, like, Spain or...Peru...or somewhere where they speak Spanish.
Isabello Rosolini, which, one has to wonder, must be an annoying name to have, what with people CONSTANTLY confusing you with ISABELLA ROSSELINI all the time.
Tina Fae, who has to be frustrated, knowing that she's just one sometimes-vowel away from television-comedy genius.
Dame Foxy of Brown of Park Slope--the very neighborhood where The Grand Prospect Hall stands.
Lady Eve of West Philadelphia and her consorts, Les Ruff Ryders.
Also:
What in the ever-loving hell is a Lucullan Delight? Qu'est ce que c'est, ca? Je me confuse.
One thing I am NOT confused about, however, is the fact that if for some reason Hell decides to freeze over and I end up having a gay wedding, it WILL be held at this location, there will be at least one cake that is a scale replica of Madonna's Blond Ambition stage--INCLUDING POSABLE FIGURINES IN ACCURATE RECREATIONS OF JEAN-PAUL GAULTIER COSTUMES--and I will wear a full three-piece IVORY--not white, IVORY--tuxedo, including tophat, walking stick, monocle, and tails, and I will stand on the landing of the steps and twirl in slow motion with my hat doffed and my tails splaying out around me. The place will be decorated in a "Last Night on the Titanic" theme, and I and my intended will arrive via an Edwardian-style horse-drawn carriage. The bellowing Mediterraneo-Slavic couple from the commercial will officiate. Then, I will kill myself.