Storytime! Here's a fun anecdote to brighten your afternoon (or lunchtime, for you West Coasters) office-related doldrums.
A dear friend of mine, and sister of Gospel reader Miss Kate, who in order to protect her anononymity (in, as always, Madonna's words), we'll call "Rumpshaker," because in high school she used to entertain us by singing said 90's hip hop hit in the voice and stylings of Julie Andrews, recently went on a lovely vacation to Spain, much deserved after all those long nights working as a hot lady doctor (too bad there aren't any straight men who read this blog...they could have an instant fantasy right there with those three words).
During a lively night in the city of Pamplona--that's where they do the whole run for your fuc*ing life while a herd of rabid bulls tries to impale you on their horns and trample you into a substance not unlike hamburger, except made of humans, possibly as retribution for grinding said bulls up into proper cow-made hamburger for consumption by humans, not that I'm complaining, because I love a burger--Rumpshaker and her group of friends met up with a fellow traveler, a nice man from Cuba we'll call...Ramiro, because.
Ramiro was fun, he had rhythm, he was kicking up his heels, and as any proper Cuban gentleman should, he led Rumpshaker in quite the marengue whirl round the dance floor. Copious photos were taken, and Ramiro asked Rumpshaker to email him copies, so he could regale his amigos back home with stories of his travels abroad. One assumes.
Rumpshaker assures me that the night was "G-rated and non-scandalous," and I believe her. Rumpshaker comes from a long line of elegant ladies of poise and comportment, and for once I am not using words like that in irony. I spent many, many an after-school evening at the home of Rumpshaker and Miss Kate, so I should know. It was a place of tasteful throw pillows, ever-present homemade baked goods and the sort of warm, welcoming atmosphere one finds only on television. For heaven's sake, Rumpshaker and Miss Kate's mother was so classy that she only bought Coca-Cola in the little miniature bottles. This was non-negotiable. And I think you'll agree that if you're going to buy Coca-Cola and you want to keep it classy, Baby Cokes are really the only feasible option.
So. Upon returning to the States, Rumpshaker sent the following photos to Ramiro (Rumpshaker's face is blurred to protect her anononononymity, mainly because I didn't ask her first whether it was okay to put her face on here and I'm too lazy to email her and can't be arsed to wait for a reply, which is really a shame because she's quite the knockout and it would be a treat for all of you to lay your eyes on her):
Pretty harmless right? For instance, notice the following: there is a large, mixed group of people; Rumpshaker is wearing a modest outfit, devoid of low cleavage-baring necklines and, if you look closely in the second pic, jeans; and at least one person was drinking nothing more than Perrrier. I see no evidence of scandal.
In response to these two pictures, Ramiro replied to Rumpshaker with eighteen--EIGHTEEN--pictures of himself.
EIGHTEEN.
For starters, volumes 1-15 were pictures of Ramiro posing with various objects, including, but not limited to:
A cuban flag
A stuffed animal frog
A hot rod sort of car I can only assume was a Trans-Am
His mother
Volumes 16-18? Ohhhhhh, but they were SO much more amazing. Rumpshaker describes them thusly:
"A series of super creepy pics featuring him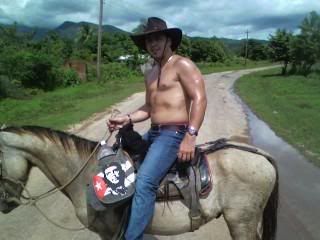 (1) oiled up shirtless riding a horse (which btw must have been more of a donkey because he is not a tall man and he looked larger than this unspecified animal [editor's note: he does in fact appear to be larger than said beast of burden, does he not? Is odd.]) with che guevara emboidered on the saddle blanket and
"(2) in the BATHTUB wearing a FEDORA and a GOLD CHAIN which was glistening on his wet chest,
and (3) wearing shiny red underpants, standing in a pelvic thrust pose with arms akimbo."
Which OF COURSE is the picture we want to see most, but Rumpshaker is unfortunately too much of a lady to forward pictures of random Cubans in their undergarments. Poo. The description "shiny red underpants, standing in a pelvic thrust pose with arms akimbo" is really too, too much. I cannot believe Rumpshaker would tantalize with that kind of wording--including the word 'akimbo,' one of my favorites--and then not deliver, and I am as yet unsure of whether or not I can ever forgive her.
Anyway. There are so many questions aren't there? The mind reels. Rumpshaker's certainly did. She inquires:
"What did I do to deserve this visual assault? I mean... All I wanted was to merengue with a Cuban, and I got a fedora. In a bathtub. And Che.
Is this a typically Cuban thing and I'm so confused because of a cultural divide? Is he a gigolo and has these pictures for business/advertisement? What about me made him think, 'Hey, that doctor from America I danced with would love to see me oiled up riding a mule?' Insight and/or condolences welcome."
Good questions all. I'd like to add to this list of relevant questions what exactly Ramiro might be doing with his other hand in that bathtub picture, because the facial expression suggests goings-on of a carnal variety.
Also, I'd like to know what it says about me that I gaze at these pictures and think "Eew! Creepy! Wouldn't kick him outta bed though." Incredibly desperate and blinded by an undying obsession with men of Latin descent and in poignant need of companionship as soon as possible even if only to clear my judgment? Or just a red-blooded (homosexual gay) man?
What is the lesson to be learned from this experience? There's an old song that urges us to "Blame It on the Bossa Nova." Perhaps we can "blame it on the merengue," but I don't think it's that simple.
I think the real lesson here is that no matter who you are or where you go, there will always be people who are totally, completely, 100% clinically batshi*.
And I find that sort of commonality comforting, touching and inspirational. Don't you?