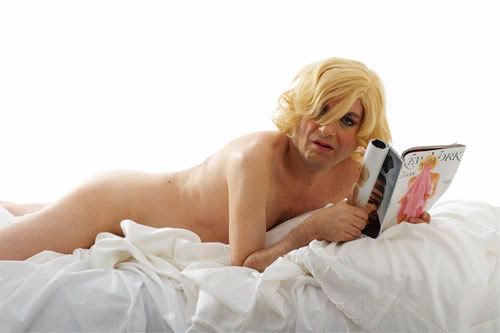 In a stroke of sheer, unadulterated brilliance, Michael Musto of The Village Voice has recreated Lindsay Lohan's recreation of Marilyn Monroe's last photo shoot. It might be the most brilliant stab at an idiotic celebrity Musto's ever done. And that's saying a lot, since he's built a career on celebrity satire.
On his inspiration for recreating the recreation, Musto had this to say:
"Anxious to share my desperate man-tits with an audience beyond Chelsea, I gleefully agreed to star in an homage to an homage: Musto as Lohan as Marilyn. That's three generations of loveliness...Just like with Marilyn and Lindsay, people have always grabbed at me, wanting a piece of my piece and a slice of my soul, but usually with more pepperoni and less cheese. Well, this time, I was seizing the power back by saying: "My bits are only mine to give. Now here they are, world. Take it all!"
You can see the rest of Musto's cheeeeeeeeeeenius photo shoot here, and read his equally cheenius article about just why LINDSAY FUC*ING LOHAN recreating the shoot in the first place is so fuc*ing ludicrous here. It's full of bon mots like the following brilliance from Paris Hilton:
Actually, wait a second. I'm sorry, you're gonna want a moment to prepare. I suggest you take a quick pee before reading this.
Ready?
No, seriously. Did you pee first?
Okay.
Ahem.
Ladies and gentlemen, Miss Paris Hilton on Marilyn Monroe:
"I love Marilyn, and I was definitely channeling her while doing The Hottie and the Nottie."
I don't really think there's anything further to say. The quote--and Paris--speaks for itself.
Yes.