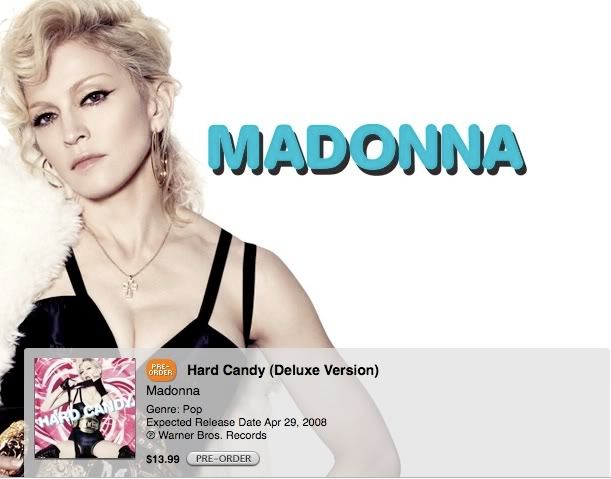 Carmela Soprano Justin Timberlake in boxing-themed drag Wonky Wonky Facelift (WWF) Also, have we ever discussed how this make-up makes it appear as though her top lip may have vanished? Madonna finally released her single, officially, not just in the illegal-download-on-every-homo-helmed-blog-ever incarnation. It popped up on iTunes at some point during my unemployment-inspired absence from the world at large. In addition, the whole album is now available for pre-sale, and you know my jobless ass went and bought it the moment I found out despite being nearly homeless and not having had lunch today in order to keep faithful to my new budget. Though in my defense, all I had to pay up-front was 99¢ for the single. The other $13 doesn't happen until April 29 when--please baby Jesus--I will once again be gainfully employed. So stop judging me. You manage your money and I'll manage mine. My God.
Anyway. I've finally heard the real version of Justin's song, which features Madonna on backing vocals Madonna's duet with Justin, "4 Minutes." I want to hate it you guys. I do. I really want it to be something I privately love because I can't sincerely hate anything this woman does (well, except when she talks about Kablahblah, that I really do hate), but impirically hate on an intellectual level because it's trash, like her song "I Love New York" or the entire "American Life" album. I really really really really do. Because she and I are still very much fighting.

But I'm sorry. "4 Minutes" is hot. End of story. It's a Justin Timberlake song and a Gwen Stefani song put in a blender and is pretty much generic garbage that could easily be envisioned on a Rihanna album, or a Britney album, or a Fergie album, or an insert-name-of-generic-popstar-here album. And it's the two whitest people in America, one of whom is under the misguided impression that he's black and the other of whom probably fancies this dalliance with "black music" as a return to her early 80's R&B-infused dancepop roots, singing a song we are supposed to believe is hip-hop.
But it's still HOT. Every intellectual queen in America is going to tell you otherwise, but then explode once it comes on over the speakers at the club or even in the privacy of their own home when nobody's looking (I'm looking at you, TMDK). This is because it is hot. Shirts from the Gap are totally generic too. It doesn't mean that you don't sometimes look really fuc*ing good in one of them.
If you haven't heard it yet (I'm sure you have) you can listen to it here. Don't tell anyone though because I don't want to go to jail, as I have no income with which to post bail. (Note to any Warner Bros. or Madge staffers [because out of all 4 of you reading one of you is BOUND to be a music industry bigwig]: email me and I will pull this link down post haste):
4_minutes_feat. Justin Timberlake & Timbaland).mov
Thoughts:
#1: The beginning and end sound like Missy Elliott's "She's a Bi*ch." (Timbaland might need some new tricks).
#2: This will result in an arena filled with concert-goers who bought a ticket solely on the basis of this song annoying the living hell out of me by constantly whining "What is this?" as if they've just smelled something offensive every time she sings a song they've never heard before because they haven't listened to a Madonna song since 1985.
#3: I still think the album might turn out to be a bit crap and this will be the only good song.
#4: I will be playing this on the treadmill until the end of time.
#5: This will be--mark my words--either the opening or closing number of her next tour, and the Timberlake will appear on a giant video screen, most likely scrapping-and-bopping or skipping-and-looing or whatever the hell the newest hip-hop dance trend is.
#6: I, the other homosexul gay and the Chief Executive Faghag (CEF) with whom I always attend Madonna church will defecate ourselves when it happens, in spite of the fact that the homosexual gay will/already does hate this song a lot.
#7: I may or may not (but most definitely do) already know this song by heart because I have already listened to it so many times.
#8: I still cannot believe how terrible she looks up there. It makes me woozy.
#9: Also, I can't believe this never occurred to me until now, but my mother totally had that haircut back in '83 and still has a variation on this theme today.
#10: Wonky Wonky Facelift
That is all.