Note: Photobucket seems to be on a censorship kick today. If the pictures in this post have vanished, go here or here for pics from more reputable media who can afford to pay for their shi*.
Lindsay Lohan--LINDSAY LOHAN--was chosen to recreate Marilyn Monroe's infamous final photo shoot for the fashion issue of New York Magazine. LINDSAY FUC*ING LOHAN. Read about it here if you care enough to bother.
LINDSAY FUC*ING LOHAN.

Who the fuc*, when searching for an ersatz-Marilyn Monroe, thinks Lindsay Lohan?! Are you kidding me? I'm not even a Marilyn devotee and I find this offensive! What's next? Tara Reid as Jackie Kennedy? Kimberly Stewart as Princess Diana? Paris Hilton as Grace fuc*ing Kelly?! Give me a fuc*ing break!
LINDSAY GODDAM* SHI**ING MOTHER FUC*ING CRAPPING PISSING AS*HOLING SON-OF-A-BIT*HING SODDING BLOODY LOHAN.
Agog. I am agog.
And speaking of cracked-out, coke whore, be-legginged dumbshi* hacks, here's one of the shots: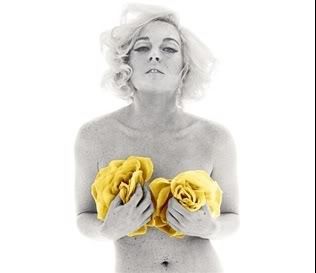 Just SCREAMS Marilyn, doesn't it? If by 'Marilyn,' you mean prematurely aged gin-soaked syphilis-ridden old French whore who spent 5 hours soaking her hair in battery acid before frying it under the heating element of my oven set to 'broil,' of course. Gross.
I love NY Magazine, but wow. Have they ever made a misstep here. I mean, COME ON, seriously! Who takes a rock ho lookin' hack like Blohan, puts her in some BUSTED wig, and decides to fashion her in the image of a fuc*ing ICON like MARILYN MONROE?!?! There are at least a thousand better choices. Like how about ScarJo for instance? Yes, she's mildly retarded, but she's PRETTY for one thing, and buxom like Marilyn and doesn't look like she just stumbled drooling from a fuc*ing CRACK HOUSE. I mean come on! In fact, fuc* ScarJo--ANYONE would be better! How about my 62-year-old mother?! Or my 5'2" 100-lb. olive-skinned brunette sister-in-law?! Fuc* it! How about ME for fuc*'s sake! Just fuc*ing ANYONE other than the shi**ing wanking arseholing Blohan!!! I mean, my God I've run out of emphatic expletives to the point that I've resorted to Britishisms I have no business using! I mean, my God! I just..I can't. I really, REALLY can't.
Anyway. To make it all the sweeter, Lindsay also had some really brilliant things to say about Marilyn and her drug-related death: how it reminded her of Heath Ledger, how she didn't understand why the entertainment industry had such adverse negative effects on so many stars (I mean, SERIOUSLY WHO THE FUC* IS SHE KIDDING?!?!?!) and how preposterous she thought it was that anyone would suggest that she might end up with the same fate.
Yes, you're reading this correctly. This from the fuc*tard who has been to rehab three times in like, the last hour, keeps bashing her car into things while she drives drunk, went on a coke-addled automobile rampage in which she stalked her former assistant, and is constantly being caught wearing "other peoples' pants" which just "happen" to contain something that may or may not (but certainly IS) cocaine.
She's gross. I used to love her a little, but she's gross and an idiot. I miss 'Mean Girls' Blohan. That Blohan was kind of cute and fun.
I mean...