Tis a very busy day today at HQ and I don't have as much time as I'd like to dedicate to last night's SAG Awards. However, there are a few VITALLY important points we need to discuss.
First and foremost:
I never thought I'd say this even if I lived for one trillion years, but last night on the SAG Awards? I missed Ryan Seacrest.
I know, I know. But seriously? Debbie Matenopoulos is such a blithering idiot that she made Ryan Seacrest, whom she was replacing due to illness, seem eloquent and brilliant by comparison.
I seriously don't have words that will accurately describe what an idiot this woman is. First off--and only about 30 minutes or so into the red carpet footage--we had her encounter with this fellow Midwestern genius, who I could only love more if she were, say, actually related to me by blood, because, after all, I'm she can type faster than Mavis Beacon: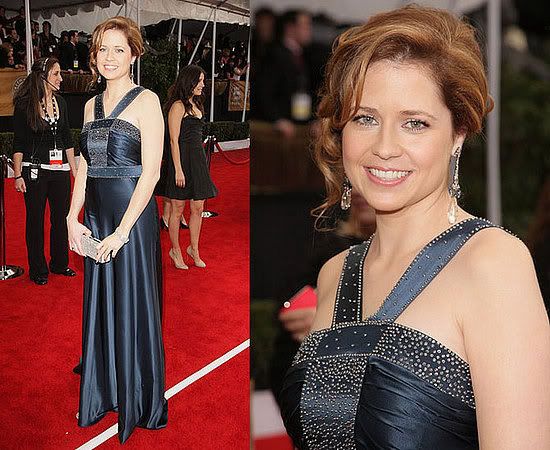 She's Julie Fischer from 'The Office.'
Except that she's actually JENNA Fischer. But Debbie can't be bothered to call people by their correct names. She'll just pick any ol' name as long as it starts with the correct letter.
Now, Jenna's kind of a big deal. She's one of the stars of one of the biggest shows on television, and I think I saw that she actually WON the SAG Award LAST YEAR. It's not like she's a nobody. And even if she WAS a nobody Dummie Matendumbasspoulos has a TEAM of people working around her telling her what to say. I know this for two reasons. #1: That is how live television works. #2: You will never convince me that she's intelligent enough to come up with her own lines, because she's mentally retarded.
On a separate note, I do not care for Jenna's dress. It makes her boobs look droopy and the straps look like a seat belt one might wear on a roller coaster. Not a fan.
Dumbass Matendipsh*topoulidiotos next flubbed this dude's name:
(Incidentally: yo...)
Apparently, his name is Eric Mabian. Even though it's really Mabius. Like Julie Jenna up there, Eric is also one of the stars of one of TV's biggest shows right now, 'Ugly Betty.' Why Dorothy Metropolis doesn't know his name is anyone's guess. I've never even SEEN 'Ugly Betty' and I know this dude's name.

Next, I'd like anyone who can cogently explain what the ever-loving hell THIS was about to email me post haste so that I can stop thinking about it:
"You'd rather be a nanny than a nurse"??????
What in the hell does that even MEAN, Darla Maybellineatokomos? One thing is for sure, it was some sort of joke about Judith Light's age, and what the fuc* is that about? How dare you make fun of Angela Bower's age on a red carpet?! What is WRONG with you?!
Then there was Giuliana Rancic (neé Depandi or somesuch) who kept asking every actress on the red carpet "How do you keep your amazing body?" She asked this roughly a four hundred and thirty-seven times. That is an estimate since I lost count.
But THEN she had the audacity to include HERSELF in the category of women who are "dying to know" how all the women from 'Desperate Housewives' keep their figures, and when Teri Hatcher talked about how important it is to accept yourself for who you are (eyeroll) regardless of your size (eyeroll) because constantly comparing yourself to celebrities can be emotionally toxic (bullet to the head), Giuliana included herself in the group of women who struggle with body image issues as well.
Now fuc*ing LOOK AT HER:
SHE IS A STICK INSECT.
As well as, apparently, an idiot. But not, for the record, nearly as bad as Douchey Manicottipotamus, who, by the way, kept call Giulian 'G'.
Moving on.
Dear Nikki Blonsky:
Why are you wearing a bridesmaid dress to the SAG Awards? Just because the salesgirl at David's Bridal told you that front hem was a good idea doesn't mean you should listen. Also, you need to tone down the oh-my-God-I-can't-believe-this-is-happening-to-li'l-ol'-me histrionics stat. Own the moment or shut up.
Next, we need to discuss this: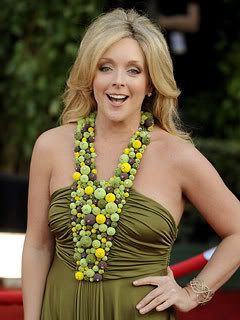 Now let's get one thing straight before we have our point/counterpoint.
I.
LOVE.
JANE KRAKOWSKI.
I love her a lot. #1: Girl's a thick, buxom chick in an industry that probably regards her as 'fat' and she don't give a FUC* and rocks that shi* like a car crash anyway. If I was the sort of person who enjoyed sexual relations with the womenfolk, I would bang her like pots and pans. #2: She is multi-talented. She is a brilliant comedian, can sing like a mutha fuc*a, and has a Tony up in this bitc*. #3: I have deep suspicions that she would make any party CRUNK AS HELL because she would a--drink a lot, b--sit in a corner with me making catty remarks about other guests and c--I suspect that she has a similar sense of humor to my friend Cammie, who is fond of singing early-90's rap songs in the voice of Julie Andrews (her specialty is 'Rump Shaker'); I can see Jane doing similar to the delight of party-goers young and old. #5: Apart from SAG Award-winner Alec Baldwin, she might be my favorite part of '30 Rock.' She is hilarious. I am tempted to post multiple and sundry YouTube clips of her as Jenna Maroney as evidence, but feel that would be tedious for me and irritating for you. BUT. It cannot be ignored. THIS:
After all, it WAS #1 on Israel's pop charts for several weeks in a row.
So. Let there be no mistake.
I
LOVE
JANE KRAKOWSKI.
However...the big reveal of this dress came as we returned from a commercial break, and either Giuliana or Ducky Marshmallopotokamopolopoulous, I neither remember nor care which, informed us that she and Jane had been snarkily critiquing others' outfits during the commercial.
I won't belabor the point, but I feel pretty strongly that those who reside in colorfully-painted-Tinkertoys-
glued-to-those-artificial-craftstore-grapes-used-for-wreathmaking-glued-to-lemon-drops-that-are-so-
heavy-they-appear-to-be-pulling-your-boobs-down-to-the-red-carpet houses shouldn't be throwing stones.
And finally, because I cannot end my critique on an anti-Krakowski note because, as I have made abundantly clear, I HEART THE KRAKOWSKI :
SAG Members: when one show, which everyone had already forgotten about because it isn't even on the air anymore and everyone had stopped watching anyway and had a really stupid finale that pissed everyone off, wins EVERYTHING, it makes for a REEEALLY boring show.
And now for the good parts.
This:
YES SANDRA OH. Lots of people seem to hate it, and I in fact DO hate the pink ribbon falling down the front, but photoshop that out and I think it's fuc*ing FIERCE.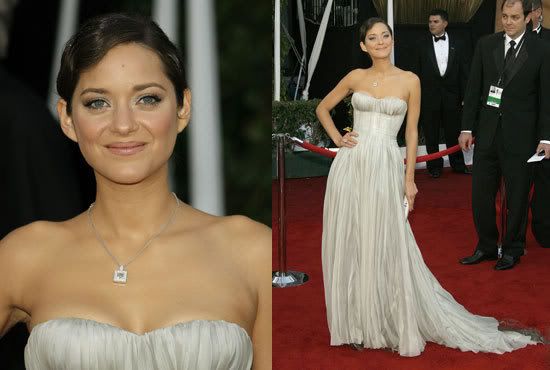 CORRECT, Marion Cotillard, star of 'La Vie en Rose' who is impossibly beautiful and should have won the award for Best Actress for her heart-stopping portrayal of Edith Piaf instead of the still-very-deserving-but-just-not-as-much-as-Marion Julie Christie.
And speaking of whom:
SIXTY-SEVEN YEARS OLD PEOPLE. SIXTY-SEVEN. 3 SCORE AND SEVEN YEARS.
Dear Mr. Bardem:
Although--despite the fact that I've thought you were brilliant ever since 'Before Night Falls' and the fact that I think 'No Country For Old Men' should win Best Picture at the Oscars and the fact that, aside from the Coen brothers being geniuses, that is entirely due to your incredibly brilliant performance therein--you were, in fact, my second choice for Best Supporting Actor in a Drama and I feel very strongly that Julia Sugarbaker's husband Hal Holbrook was robbed and is a victim of the fact that like 4 people saw 'Into the Wild' and that depending on how you look at things it may or may not have been a particularly good movie and while we're on the subject, why was Emile Hirsch so wooden and dead-eyed when he and Mr. Sugarbaker announced 'Into the Wild' as one of the ensemble cast nominees?
Apart from all of that and, now that I'm thinking about it, the fact that after watching you last night I suspect that you may or may not be a touch impressed with yourself, but then you Europeans are often hard to read and easy to misjudge, as evidenced by the fact that you are often misconstrued as gay when really you're just sort of Euro-fey and more fashionable than the typical American straight man, I'd like to extend an invitation to you to stay in my guest room (by which I mean an air mattress on my living room floor, or, if you happen to have a bad back, on my very supportive mattress beside me in my bed) the next time you find yourself in New York and in need of lodging. Or just hospitality.
And speaking, Senor Bardem, of the man whom you robbed of an award:
Look at the Sugarbakers on the red carpet last night!!!! Are you kidding me?! How can you not love them?!?! If there is a God, I will wake up tomorrow morning to find that the Sugarbakers, by some miracle that surpasses human understanding, have in fact become my grandparents, and they will come to visit me often, whereupon Mr. Hal Sugarbaker (neé Holbrook) will take me to a dimly-lit bar with leather couches where we will sit drinking brandy from snifters talking films, and Mrs. Julia Sugarbaker (neé Carter; and also Dixie, come to think of it) will take me shopping for a nice suit to wear to the museum fundraiser I will attend as her guest that evening (cause those aren't really Hal's thing). Also, Julia/Dixie's grey streaks are fierce like WHAT.
And finally, Daniel Day-Lewis's win for 'There Will Be Blood' was awesome enough. I don't know how he manages to consistently top his previous performances but he somehow does. I think he might be possessed by Satan or something. Or, alternatively, he's Jesus. One or the other. Regardless, the man is incredible. He's one of those actors that disappears entirely into a character, making you forget completely that you're watching Daniel Day-Lewis. I have a degree in acting (stop that snickering--two-bit, bargain-basement degrees still count as degrees) and I can't even begin to comprehend how he does what he does. It's beyond me, and in all seriousness, I am in awe of him.
But I digress. His winning was fantastic enough. His eloquent, heartfelt dedication of his award to the memory of Heath Ledger was by far the best part of the night:
Well put, DDL.