Okay, did anyone watch the People's Choice Awards besides me?
I don't think so. Apparently no one did, according to all the articles. And the fact that there's almost zero photos and video clips of the event seems to bear that out. And I think we were only watching it in our apartment because the TV was on that channel while someone was watching something else and then we all got up to tend to other things and it happened to be on. But we ended up staying with it because it was an unmitigated TRAINWRECK.
The whole thing was just totally bizarre. First off, you had Queen Latifah's outfit which this picture doesn't do justice, but whatever:
You can see it a little better here, as well as the totally bizarre-looking empty studio setup:
It's not terrible or anything, but the whole thing--really drapey and shapeless and, obviously, very Greco-Roman and whatnot--kind of had the effect of a slightly bedazzled garbage bag. It did her no favors. Especially given the way she's looked in the past for other awards shows, like, say, this little number from a past Golden Globes: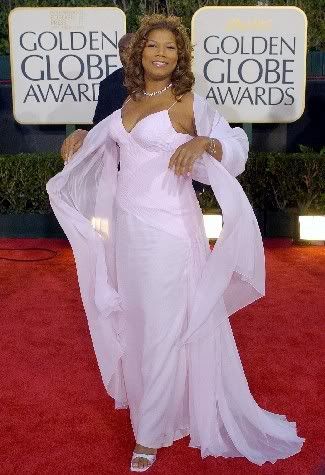 Pretty glam, right?
But Queen's sartorial misstep was the LEAST of the show's troubles. The whole thing was weird. The Toronto Star said the whole thing felt very 'cable access.' I was searching for the right description, and that is exactly what I was looking for!! It was SO WEIRD.
But then Queen like upped the ante on the weirdness by appearing like she was on massive amounts of cocaine or meth or mini-thins or something! My God, the woman was all over the place! It was like watching a squirrel jump around in a tree wearing an evening gown. And then she kept singing! She kept doing these weird like ode-to-Aretha introductions of the categories. No joke. All like "And now! We have the nom-i-NEES for favorite fe-yee-yee-yeee-male movah stahh-HAAAAAHHHHH!" And then she'd make a weird joke like "What do you think? It still needs work?" That just made the whole thing more awkward.
And she did the same shtick like FOUR TIMES. It was so weird. I cannot stress how weird it was.
And then--THEN--there were the winners. All the award acceptances were pre-taped, right? Not broadcast LIVE. Pre-taped. So you would think that they would be eloquent and perfect, right? I mean, there's the opportunity for multiple takes.
So why were they all so awkward?! Reese Witherspoon babbled on and on and on and on and on. It was like watching an 8 yr old at show-and-tell: "I found this rock, with my dad, while we were walking, and we picked it up, and it was dirty, so we brushed it off, and I put it in my pocket, and we walked home, and then we had dinner, and then I went to bed, and then I had a dream, and then I woke up, and then I came to school, and I have this rock." You know how kids are, right?
Reese was in similar form: "I just wanna thank my fans and I am so lucky to be able to do this with my life and I'd just like to say how blessed and fortunate I am and uh, and I'd just like to say that I wish the writers luck and uh, I'd just like to say thanks to the fans and uh, I'd just like say how lucky I am and how fortunate and blessed I am and uh, I'd just to say thank you, and uh, I'd just like to say that I'd just like to say things."
It was seriously so weird and awkward and clearly off-the-cuff, but not by a person skillful at speaking off the cuff, right? Which is fine. Not all are fortunate to have the gift of extemporaneous gab. So write your shi* down first! And if you f up, DO ANOTHER TAKE!! IT'S PRE-TAPED!!
I'd just like to say that I'd just like to say that this show was a total disaster, and I'd just like to say that I'd just like to say that I'm really frightened for the Golden Globes and I'd just like to say that when I think about the Oscars I'd just like to say that I start to cry a little.