Apparently, a LOT of people think Katie Holmes faked the NYC Marathon.
I've been hearing rumblings about this for weeks, but haven't really read up much on it because...well, who cares?
But today is an incredibly slow day at work (as evidenced by my tons of posts) and in a fit of boredom, I clicked on a link from another blog and read a little about this.
And now, I'm hooked, because this is the most bizarre thing I've ever read.
Y'all, for serious? KATIE HOLMES TOTALLY DID NOT RUN THE NYC MARATHON!!!!!! She faked that mess!!! YOU KNOW she faked that mess!!!
Check it out here, and in depth here.
Basically, here's a summary. First, take a look at this picture.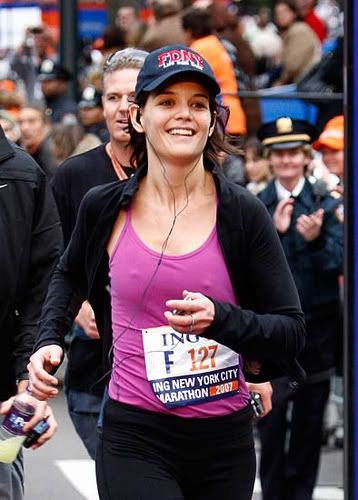 A marathon, for those who don't know, is 26.2 miles long. 26.2 miles. That's a LOT of running, right? It (supposedly) took Katie five and a half hours to complete the marathon, and that's considered not that great. FIVE AND A HALF HOURS OF CONSISTENT RUNNING.
Are you with me?
Okay. So take a look at Katie up there. Notice anything fishy? (Other than the obvious. Zing! Oh get over it. Sophomoric vagina jokes are never not funny).
She's not sweating. Not a drop. Not on the shirt. Not on her skin. Not on the hat. Nothing.
According to marathon experts, when you run a marathon, you sweat so much that you also leave salt deposits on your clothes. Totally believable. I've left salt deposits on a t-shirt in a 90-minute Bikram yoga class before, let alone a 39-hour run.
And yet, our high priestess of Xenu has no salt deposits either.
Notice her prominent, erect nipples.
Had she run the marathon with no protection, so say the experts, her nipples would be bleeding like WHAT from chafing. Like our friend Ed Helms from 'The Office' here: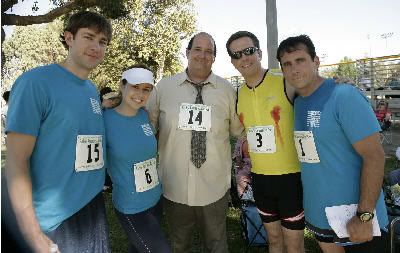 Relax, it's fake. It's for an episode of 'The Office' wherein Michael Scott hosts a Dunder-Mifflin 5k Fun Run to raise money to help with Meredith's medical bills because he mowed her down in the parking lot and shattered her pelvis.
HOWEVER. The bloody nipples thing apparently happens if you don't cover your nips up with some Band-Aids, cuz they get to chafin' from rubbing up on your shirt for the 597 hours you're running through the streets of Manhattan, which is something the impetus for which I will never understand.
And, furthermore, I can personally vouch for this. When I lived in El Pueblo de Nuestra Señora la Reina de los Ángeles, whose name was later shortened to Los Angeles, I used to do a lot of hiking in Runyon Canyon, a canyon park by my old apartment. I would hike all the way up this fuc*ing mountain and then run all the way back down it and I have the fuc*ed up knees to prove it.
Just for fun, because it was--and still is--one of my favorite places on earth, let's take a quick photographic tour of Runyon Canyon, hmm?
Ooooohhhhh....
Ahhhhhhhhh....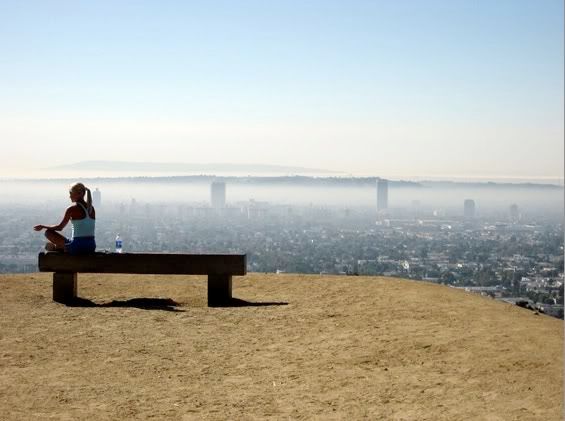 Shzzdklfpoiuphhhwwwahhhhhhhhhhhh!!....
I know right? Also, a quick word about that third picture. This is a perfect example of the different effects West Coast living and East Coast living have on your psyche. Cuz when I lived in LA, if I had happened upon this bitc* meditating on a bench looking out over smog, I woulda been like "Wow, what a great place to come meditate...Such a good idea. Totally fetch." Or whatever.
Now, I look at that shi* and I'm like "Look at that dumb whore fuc*ing meditating in front of a bunch of smog. What a fuc*ing asshat." Granted, that's not even smog, it's ocean mist (it's the wrong color to be smog). But still.
Anyway. So even the longest, most difficult hike in Runyon Canyon takes at most, if you're fuc*ing poking along like a big fat fatty (or a tourist), 90 minutes. And after 90 minutes of hiking that shit with my t-shirt rubbin' up on my nips? Those mutha fuc*as HURT y'all. For real. They'd be all red and sore and shi* like I had been nursing a bunch of infants all day. Like I was a fuc*ing WET NURSE up in there. No joke. So on the advice of a marathon-runner friend, I started wearing Band-Aids on my tatties--I believe 'pecs' is the technical term--and voila: no chafed baby-nursing nips of fire.
So I'm just sayin' that if 90 minutes of hiking can chafe some nips, you can imagine what Katie's 5.5 HOURS OF RUNNING would do to some unprotected milk nozzles, and she very clearly has no band-aids in place because her teets are very demonstrably erect and accounted for (and also, while we're staring at them, lop-sided), beneath that busted sweat- and salt-free tank top.
There are also NO PHOTOGRAPHS of Katie running. At the exact time she crossed the 10k checkpoint, there were TONS of photos taken and Katie's fool as* doesn't show up in ANY OF THEM. This is very easily explained however, if she is, say, either a vampire or a hologram. Plenty of people are convinced she's a robot, so I don't see either option as that big a leap of the imagination. Except she's clearly out in daylight. So she's probably not a vampire. But she could still TOTALLY be a hologram.
YOU KNOW DAT BITC* A HOLOGRAM!!!!
Then, there are these mysterious "running partners" whose times when matched against Katie's, and the fact that the numbers affixed to the front of their shirts aren't found in the Marathon's database, suggest that they were running this shi* for her.
And finally, a mere few hours after the Marathon, Katie's batshi* ass went to a movie premiere with Pastor Xenu Tom Cruise, teetering about on stilettos down a red carpet. THERE IS NO WAY SHE COULD DO THAT AFTER RUNNING 26.2 MILES. Folks finish a marathon and then fuc*ing COLLAPSE.
I mean, y'all, I was down there that day watching this mess--if I were home I could post pictures, but y'all don't give a shi* anyway--and there were some folks down there built like fuc*ing BRICK SHI*HOUSES--I mean, I'm talking like Men's Health cover models and mess--who were HOBBLING around the Upper West Side looking like they was fixin' to DIE up in front of the 66th St. Barnes & Noble. Your body doesn't just fuc*ing move on with its day after running 26.2 miles. Your body be like "Fool! I ain't playin' witchoo no more. I know you 'bout to SIT THE FUC* DOWN and put some muh-fuc*in' EATS UP IN HERE."
However, I don't know that these rules of biology apply to robots or holograms. Someone wikipedia it and email me. In addition to 'robot' and 'hologram,' you could also try searching under 'cyborg.'
So after taking all of this in, my question is simple:
WHAT THE FUC* IS WRONG WITH KATIE HOLMES?!?!?! WHO FUC*ING FAKES A MARATHON?!?!
Bitc* crazy.